Ever fancied using sex furniture?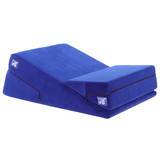 "Firstly the Liberator Wedge Ramp Combo is a quality item, designed and made from high density foam and a plush velour covering, it feels substantial and very well made. It is best described as "sex furniture" and enables couples to get into various positions (and more importantly stay in various positions) maintaining both comfort and support. The options for different positions are endless so I will mention a couple that stand out…"
See the full Liberator Wedge Ramp Combo review at Orgasm Army.
Buy the Liberator Wedge Ramp Combo at Lovehoney.