Whips, Crops and Canes
Bring a bondage whip to the bedroom and begin exploring the thrilling sensation of erotic spanking together.
We stock everything from bondage crops and sex canes to floggers and spanking paddles to help you explore sexual spanking and punishment. Love bondage, but not sure how to spank? Check out our guide on Spanking and Whipping for Beginners.
How to Prepare for BDSM and Bondage Whips
For many people, mixing a little bit of pain with a lot of pleasure is irresistible. Impact play is a popular act that many first get into with light spanking and hair-pulling, but if you're looking to explore more intense impact play, BDSM whips might be the answer.
BDSM whips are exciting, but there's some work to be done before you get to slapping. Firstly, you definitely want to chat with your partner about it beforehand - whether you're the giver or the receiver, impact play can be a total no-go for some people, so making sure you're on the same page is non-negotiable. It's also worth window shopping and looking into what tools are out there and deciding together on which one might be best for whatever play you have in mind. Finally, get a good aftercare plan in place - impact play can bring up complicated emotions for both of you, so make sure you've scheduled in some loving touches and comforting words for when playtime's over. Since whipping can also make the skin sensitive and red, it's also worth investing in some soothing lotion to rub on the area as part of your aftercare routine.
Ready to dive in? Here's everything you need to know about BDSM whips.
What are BDSM and Bondage Whips?
BDSM whips are for the more experienced spanker. Since whips and crops are much smaller than a hand or a paddle, the pain is concentrated in a much smaller area, which creates stinging sensations that can take bondage to the next level. Since the area of impact is smaller and doesn't spread out over a larger surface area, the pain is more intense and sharp and makes the skin much more sensitive.
Some like to incorporate BDSM whips into punishment play, and they're a great toy to have in your arsenal if you're looking to level up your punishments (with your partner's consent, of course) since the burn from a whip is stronger than spanking. However, it's not all about punishments - blending pain and pleasure is a popular kink that's loved by many, and some whippers are drawn to BDSM whips because of their innate ability to make the skin more sensitive and level-up bondage play.
So, whether it's punishment or reward, BDSM whips are fantastic for impact lovers to take sex to new heights.
Types of BDSM Whips
If you're after a BDSM whip, the next obvious question is "Which one should I buy?". With a wide variety of materials, sizes, and even designs, it's important to know which toys do what.
Crops
When you think of whips, the first thing that might come to mind would be a crop. Crops are slim and robust and have a wider tip that's sometimes in a shape like a heart, for example. They most commonly are made of leather or faux leather, and can be used for soft teasing or more stinging strikes. The impact comes from the tip, which is also where that satisfying "thwack!" noise comes from.
Whips
Whips tend to have a handle and a looser, more mobile tail. This allows harsher impact and is suited to advanced receivers due to its intense sensations. Coming in a wide variety of sizes and colours, whips are the go-to for those who want to go to the next level of pain play. They can also leave some pretty intense marks, but they're only temporary.
Canes
For seriously sharp impact, canes are the ultimate in pain play. Long and flexible, canes provide even more intense strikes than crops and need a lot of warming up before they're used. It's best to start slow and build up to canes as they can be pretty hardcore, so it's worth having some impact play experience under your belt before getting into cane-play.
Spanking Cane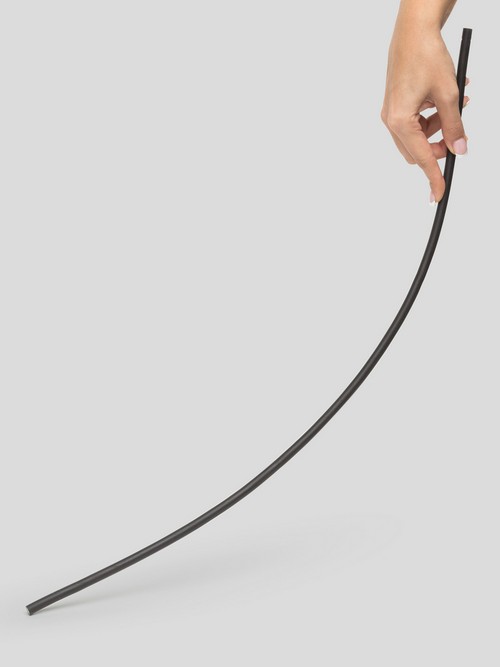 The Bondage Boutique Advanced Rattan Cane is a surefire way to deliver some sharp stings that'll get your point across.
The plastic coating not only intensifies the sensations but also prevents any fraying or breakage, so you can whip away to your heart's content. Perfect for advanced pain players, this cane provides the perfect step up from crops and whips, so if you want more intense strikes, Bondage Boutique's offering is a brilliantly harsh toy. Start slow, though - this cane means business, so going straight in with hard hits at full force would bring tears to anyone's eyes.
It's best to gently tap, to begin with as the receiver acclimates to the sensations, and from there you can build up to full-blown whacks. But once you're all warmed up, this cane is going to create unforgettable sensations that'll definitely leave some (temporary) marks.
Crop Whip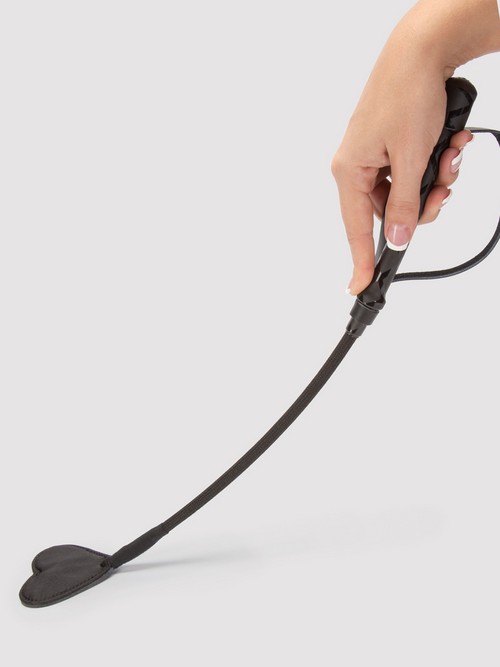 A versatile tool, our Black Heart Riding Crop can be used for light sensations or hard slaps. Perfect for beginners, this crop has a long and flexible stem and a wrist loop for confident strikes, and the cute heart on the end means it'll look just as good on display as it will be tucked away out of sight.
If you're looking to explore whips without too much pain, this is a great option as it allows you to explore a variety of sensations, starting from gentle slaps, up to harsh strikes.
It's also perfect for foreplay, as its flexible tip allows for soft caresses over the skin that are bound to give the receiver goosebumps. Paired with the sharp cracks this crop can also dish out, it's the perfect multi-purpose impact toy for people looking to up their punishment game.
Leather Whip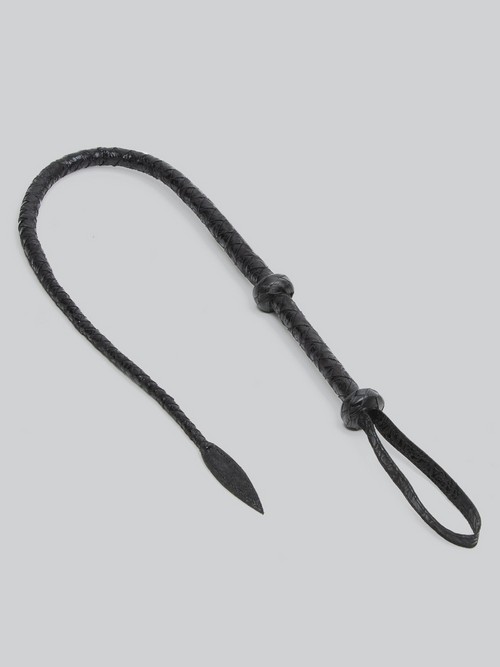 If you've got a bit of BDSM experience behind you, this Bondage Boutique Black Rose Whip is the perfect addition to your box of tricks.
Made from durable faux leather with a gorgeous black rose embellishment, this whip has a pointed tail for deliciously painful stings, while the sturdy handle and wrist strap ensure the person on the giving end is in full control. Its flexible body allows for a variety of strikes, and it can be used for gentle caresses during foreplay to work up to stinging slaps.
Measuring just 35 inches in length, it's also perfect for BDSM lovers who are tight on space, or even if you want to take your whip on holiday.
Related BDSM Guides
What to find out more about bondage and BDSM. Our sexpert guides are here to help…