Jiggle Balls and Ben Wa Balls
Whether you're looking for a way to intensify your next orgasm or tone your pelvic floor muscles (or both), Ben Wa balls promise a heightened sensual experience. Ben Wa balls are a type of Kegel ball that tease you into arousal hours before your partner arrives, add a little extra stimulation to solo play, or help you practice Kegel exercises.
Our collection would impress any Fifty Shades of Grey fan. So read our customer reviews and browse our products to discover which Ben Wa balls will bring you the most seductive satisfaction.
What Are Ben Wa Balls
Ben Wa Balls are small weighted balls made out of metal, silicone or glass that slide smoothly into the vagina and give you a deliciously full feeling that can last up to 6 hours.
You can insert them in a similar way as you would a love egg or other type of Kegel ball. The difference is they're designed to induce arousal through a prolonged teasing session, rather than tip you over the edge like a love egg's pulsing vibrations.
They come in pairs so once the balls are inserted inside they'll bump together to create subtle vibrations for added rippling pleasure. You can even choose a set with adjustable motorised vibrations for a more intense sensation.
Most balls come linked with a string to keep them connected and another string that stays hanging outside of the vagina to help them glide out once you're finished. If you're an experienced user, you may be interested in individual balls without any string for the added thrill of guiding them in and out with your Kegels alone.
Don't be intimidated by Ben Wa balls if you've never used them before. They're deliberately designed in a range of different sizes, weights and materials so you can find what gives you the most pleasure.
What Are Ben Wa Balls For
Ben Wa Balls help strengthen the pelvic floor muscles through the effort of holding them in place inside you or squeezing your vagina around them repeatedly.
They'll also make you desperately horny by gently stimulating your nerve endings from the inside.
Strengthening your pelvic floor muscles can give you more intense, longer orgasms. Not to mention give you more control over those muscles during intercourse so you can create stronger sensations for your partner.
There are also more practical benefits, like better bladder control. But who's thinking about practical benefits when these little balls can stimulate such sumptuous waves of pleasure?
How to Use Ben Wa Balls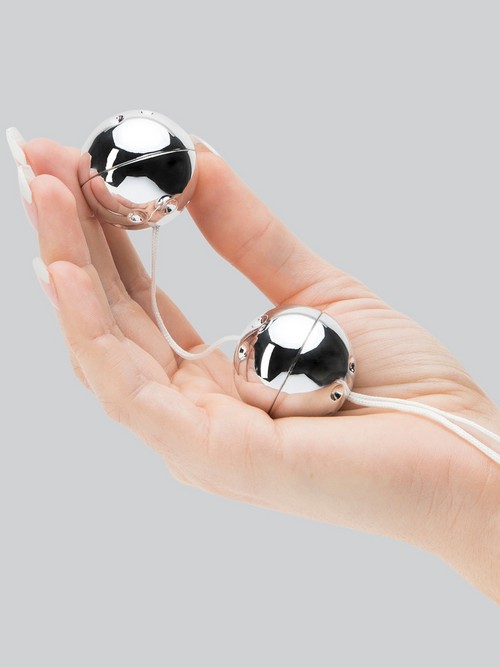 Use an antibacterial soap to make sure your hands and balls are clean before rubbing them with generous amounts of water-based lube. It's worth applying extra lube to your vagina, so you get a smooth, pleasurable sensation when you insert them. Get comfy, spread your legs and slowly guide in the first ball, followed by the string that connects them, and finally the second ball. Gently push the balls up inside as far as you're comfortable, but leave the second string hanging out.
(Don't worry about losing them - just like when you use a tampon, your cervix won't let them go further than is safe.)
You can also use your Kegel muscles to gently coax the balls into a comfortable position. Ben Wa balls should feel secure inside your vagina, so if they feel like they're about to fall out try inserting them further.
You've got a few options from here, depending on what you're using the balls for:
You can carry on with your day while enjoying a subtle tingly feeling, all that delicious anticipation, and a slowly building horniness.
You can skip to the good part and use other toys, your own hands, or a partner for further stimulation.
You can focus on strengthening your pelvic floor muscles with Kegel exercisesfor maximum Kegel conditioning.
We don't recommend using the Ben Wa balls for anal play as there isn't the built-in safety of the cervix to stop the balls from going too far in. Using other sex toys, hands or a partner's penis in the back whilst the balls are in the front, on the other hand…
Types of Ben Wa Balls
Ben Wa Balls are a type of Kegel ball that specifically focus on sexual satisfaction, though you can use them for kegal toning as well. They're also referred to as geisha balls, vagina balls, or their traditional Japanese name: Rin-no-tama. You can separate Ben Wa Balls into different types based on:
● The size of the balls
● The material of the ball, which often decides how heavy they are
● Whether the balls are connected or not
● Whether the balls are solid all the way through, or have extra weights rolling around inside
Different combinations will give you different experiences, so it's worth trying out a few different ones to find what works best for you.
If you've never used any kind of jiggle balls, Kegel balls or Ben Wa Balls before we recommend starting your journey with a smaller, lighter ball with a hanging string for removal, so you can focus on enjoying all those delicate waves of pleasure before adding more complexity.
Metal Ben Wa Balls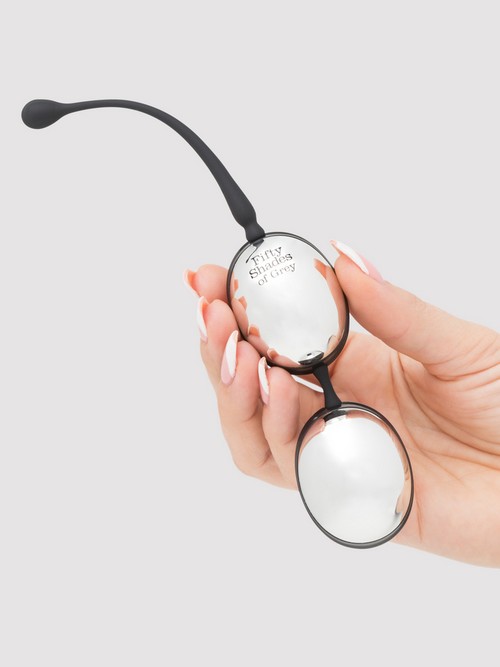 As soon as we think of metal Ben Wa balls, we think about Fifty Shades of Grey.
We applaud Anastasia for using metal Ben Wa balls on her first time, as metal can be a more challenging material to manoeuvre than silicone or plastic. (That's why we put some of ours in silicone coats.)
Metal Ben Wa balls are smooth, slick and cool, so you have to squeeze your Kegel muscles tightly so they don't slip out. That's why they're some of the best balls to use if you want to strengthen your pelvic floor or enjoy a sexual challenge.
Each one is usually about the size of a marble and can build to create exquisite sexual pleasure once you're ready to use them.
Silicone Ben Wa Balls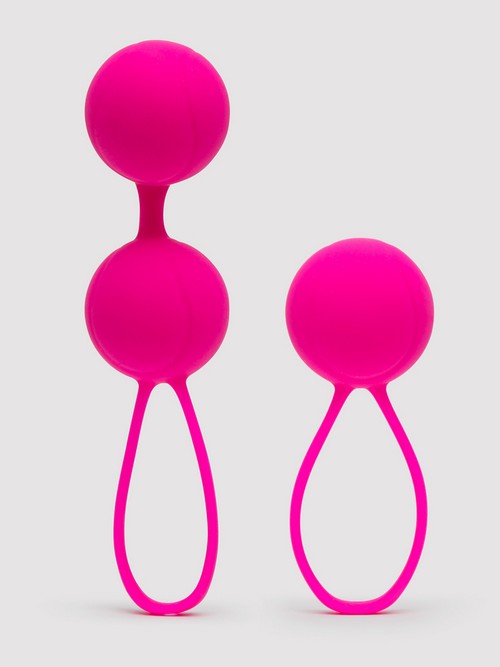 Silicone is one of the most popular kinds of Ben Wa Balls, and for good reason.
The smooth, soft material warms up inside you faster than others for a more sumptuous, comfortable experience.
It's also easier to hold once it's inside you as the material is less slippery than metal or glass, making it the best material to try if you're new to using kegel balls.
Glass Ben Wa Balls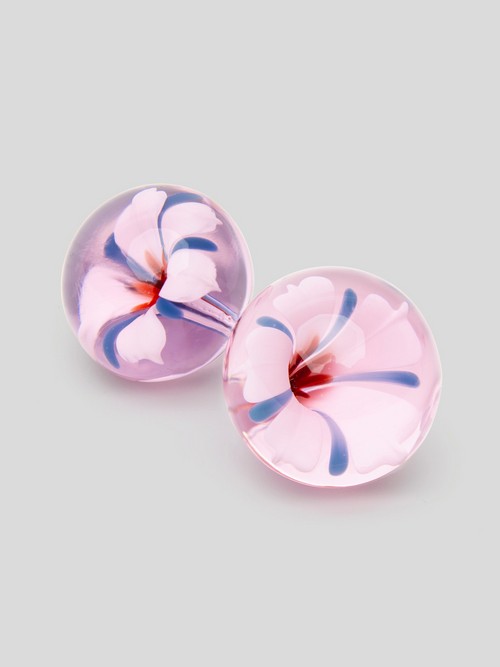 For an elegant, luxurious experience, you can't go wrong with glass Ben Wa balls. One of the most beautiful kinds of sex toys, glass Ben Wa balls often have flowers or patterns imprinted inside them.
Like metal Ben Wa balls, these are slippery and will require lots of tight squeezing to keep them in place. They may be more suited to experienced users or those who really want to focus on improving their pelvic floor muscles.
More Sex Toy Advice
Discover more about love eggs, jiggle balls and Kegel exercisers with these Lovehoney guides.