Bondage Collars and Leads
Bondage collars & leads have long been a visual symbol of submission, offering doting subs a marker of their obedience and owned status.
Bedroom bondage collars are also wonderfully practical, allowing for new ways to dominate by connecting other bondage restraints to the O-ring or D-ring, or alternatively using a lead to control your submissive lover's movements. Not sure which is the right collar or lead for you? Check out our guides to learn how to buy a bondage collar.
Why Buy a Bondage Collar
So, you're thinking of buying a bondage collar. Nice.
First off, here are the basics. Bondage collars are a wearable clothing that the BDSM community put on to express their affinity with the community, as well as their position within the community. Often you'll find these made in leather and metal, but they also come in other materials (we'll get into those). You can find them in a range of colours, with femme motifs like heart-shaped metal inserts, spikey spikes, and chain-link textures.
Bondage collars can be worn during the day (known as day collars) and at the night. They resemble chokers and as such are a fab way to explore breath play with a consenting partner. They also signal to other members of the community what you might be into, whether that's a sub-dom dynamic or a sadomasochistic one. The BDSM world's your oyster.
Is There a Difference Between a D and O ring?
It might surprise you to know that there is a big difference between the two lead fastenings. A D-ring often symbolises that the submissive person is in a committed relationship with their Dom. It's not uncommon for them to have engravings of their master's name on these. Usually, wearing a D-ring signifies that the couple is in a consistent power relationship.
The submissive partner may even be known as Slave, whereas the dominant partner is known as Master.
Types of BDSM Collars
Leather Collar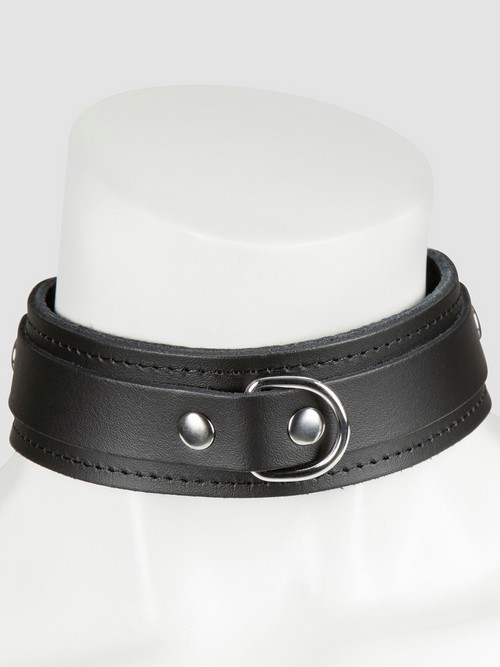 Leather collars often come in black and reds, but can also be found in pastel pinks, whites and much more. These are worn to demonstrate your submissive nature when it comes to sex. Look out for large D and O rings on the front. These can be attached to chains and leads so you can be walked around by your dominant partner - if you so wish.
As leather is a natural material, it's really important that you regularly keep your collar clean. This is because, aside from bacteria that can grow from general wear and sweat build-up, it can begin to deteriorate and rot. Leather can also stain easily, especially where oil lubes are concerned. Keeping your collars clean is a must.
The best way to care for a leather collar is to grab some fragrance-free soapy water and clean gently with a damp cloth. Steer clear from anything that could leave a residue, or from washing detergents like fabric softener. Then, air dry. DO NOT whack it in the tumble dryer or run over with a hair dryer, not unless you want a cracked collar. And, since these bad boys can cost a pretty penny, we're guessing that would be no bueno.
Day Collar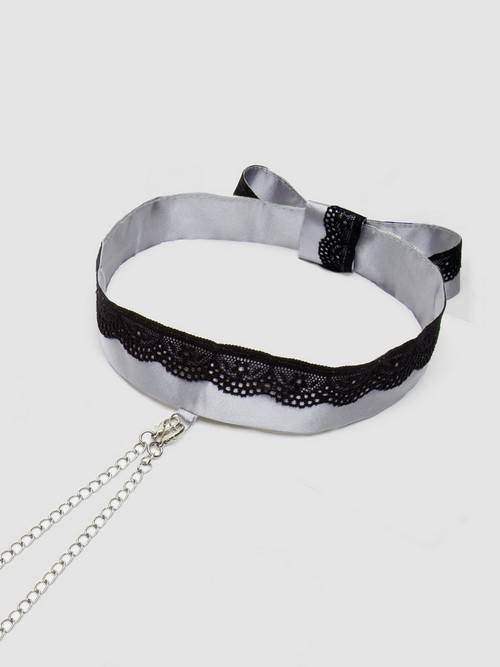 If you want to wear something that subtly signals to your bedroom preferences, then sporting a day collar could be just what the sex doctor ordered.
Day collars are a more discreet way of showing everyone what you're into. From dainty chains with O-shaped detailing, to thin leather straps with heart emblems. They're cute, dainty and femme-tastic. Though if you were to get a lead to attach to one, you might find yourself needing to be gentle with how you're lead around. But hey, that could be fun too.
These are great for testing the water on a first date, or as a decorative piece to wear during the day.
Which Lead Is Right for Me?
As with anything BDSM, it really is up to you which aesthetic you want to bring to the sex room-slash-party. You might find that a trad-style chain-link lead says exactly what you need it to, or in other instances, a rope might say it better.
Beauty truly is in the eye of the beholder.
Our tip is to shop around and try some on for size. Start small and figure out what works for you both aesthetically and functionally. And, as luck would have it, we have plenty to choose from!
Bondage and BDSM Guides
From bondage collars to chastity devices and everything in between, our expert guides are here to help you on your journey to sexual enlightenment.