"Not usually a fan of seafood, but..." September's Review of the Month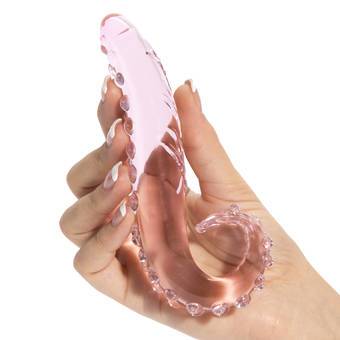 Lovehoney Community member Shadow Collector is one very lucky lady. Not only did she receive a Secret Wishlist Present from an anonymous forum friend, but we've also chosen the review she wrote of it as our Review of the Month. The prize? £100 to spend at Lovehoney!
We loved her in-depth review of the Icicles No 24 Tentacle Glass Dildo. She even pointed out features we hadn't noticed, like the perineum stimulation offered by the textured nubs:
"The raised glass nodules provide the kind of feelings that, previous to this toy, I only have imagined existed. There is nothing that can compare to the cool, firm feel of glass. Furthermore, the handle's shaped so that with every thrust it'll also tickle the anus."
"To the amazing person who blessed me with the Icicles No. 24, thank you. You've changed my outlook on sex toys for the better, and it was already pretty darn positive. I love this piece and any texture aficionados will love it as well."
Read Shadow Collector's full review here.
Read on below to see who we picked as runners up…
---
Shadow Collector was our lucky winner for September, but we've also chosen a handful of runners up to receive 2,000 Oh! Points each credited to their Lovehoney Community account - congratulations everyone!
Like the sound of getting swag for writing reviews? We'd love to hear what you have to say about your recent Lovehoney purchases (whether you loved or hated them!) Submit your review now to be automatically entered into next month's competition. Be sure to read our guide to Writing Winning Product Reviews first for insider tips.
Runners Up:
---
Thumper the Rabbit's review of TENGA Vacuum Controller Set
"The intensity I felt was incredible, I felt as if I was on the brink of climax from the very first stroke. I released the pressure somewhat and began moving the pleasure device up and down. Waves of sensation that were provided by the onacup were turned into torrents of ecstasy by the vacuum's power."
Clockwork_Oasis's review of Motörhead Ace of Spades 10 Function Bullet Vibrator
"The bullet has three vibration strengths and seven patterns, one of which actually resembles the guitar riff on "Ace of Spades". And it packs a punch! Already the first setting rumbles like an inmate "On Parole", and the second speed feels like it's "1916" vibrations a second. For me, the third setting was a bit of an "Overkill". It is simply too buzzy, although normally, hissy-fit buzzing would be the "Kiss of Death" for me. But the first two settings are great, and the power makes the patterns more interesting than those of the average bullet vibe."

EmmelinePeaches's review of Power Play Flickering Tongue Clitoral Vibrator
"The Power Play Flickering Tongue is not a miracle worker, nor is it ground-breaking in terms of form or function. But what it does provide is a strong, buzzy vibrator which can be enjoyed with a couple or solo. If you know that these vibrations are what turn you on, then the Flickering Tongue isn't likely to disappoint. However, if this review didn't tickle your fancy then chances are the Flickering Tongue won't either."
---
You may also like: