Fifty Shades Darker: 8 Revealing Set Details You Didn't Notice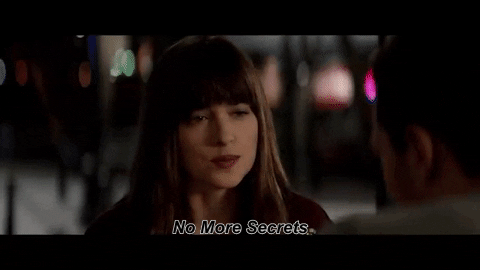 So, in case you missed it, this week Universal Studios released the first sneak peak into Fifty Shades Darker, and suffice to say, it's got us pretty darn excited!
After watching the trailer many, many times (that shower scene!) we started to notice a few hidden messages. Could they be telling us more than initially meets the eye? Are we making this up as we go along? Who knows?!
Either way it gave me an excuse to spend all afternoon looking at Christian Grey. #ItsAHardLife
So, for your pleasure, I've compiled my top 8 revealing set details which I reckon tell us even more about what we can expect to see in Fifty Shades Darker in February.
---
1. Playing with fire… Literally FYI: Fire = Christian. Anyone else notice the little boy hugging teddy bear in the background? Reference to Christian's childhood, much?
---
2. STOP MOVING Check out the poster on Ana's wall which reads "STOP MOVING" during this heartfelt "I want you back" scene. Hidden message to tell Ana to stop running? Or is it a sneaky nod to bondage scenes in the film? You decide!
---
3. The SHADE of it all What's missing in this window? That's right: SHADES! No more shades (of grey)?
We couldn't help but notice the Rorschach style artwork and the knocked over head statue either. Could this be an insight into Christian's state of mind?
---
4. Juxtapo-what? Ok, so it's an age old trick in hidden message play, but this totally unsubtle contrast between how carefree Ana looked before meeting Christian (in the photo) vs post-Christian speaks volumes.
---
5. Diamonds are forever Anyone else spot the sneaky flash of Ana's diamond ring? We can't wait to see how he pops the big Q!
And just look at all those beautiful flowers. If you didn't already know, lilies represent humility and devotion, orange roses represent desire and passion, and buddleia (aka the Butterfly Bush) could symbolise Ana's new-found freedom.
---
6. Inception, b*tch Notice Elena's mask is a mask, wearing a mask! This b*tch has many layers of secrecy and deception ready to make you weep. Much like an onion.
---
7. Could you BE any more basic? Ana's wearing the same mac at 00:48. Has not updated wardrobe recently.
(Clearly Christian is loaded, but tight as a ducks… bill.)
---
8. New Releases

Referencing the change in dynamic between Christian and Ana perhaps? Also, note the faux book titles which include "Frosty Harbor", "Belle (of the ball?)", "Dodging the Blows" and "The Last Typist". Hidden clues? We think so!
---
FIN What do you think? Did we miss any? Or maybe you have a different opinion on what the trailer is telling us.
Let us know in the comments below!
---
All GIFs made using GIPHY