5 Top Sex Toys for Double Penetration
Newton's third law of motion states that for every action, there is an equal and opposite reaction.
And while double-ended sex toys probably didn't play a role in Sir Isaac's extensive research, they are a prime example of classical mechanics in action (bet all this physics talk is getting you hot and bothered, isn't it?)
What many people don't realise is that toys with double penetration features aren't just for couples – they're perfect for solo play too.
Think about it. We've been blessed with multiple erogenous zones, so why not light them all up at the same time?
So whether you're riding solo or bringing in a pocket-sized guest star to your couple's play, here are five top-of-the-range sex toys that can double your fun.
---
Don't be fooled, this mini dildo may be basic, but it sure isn't basic (if you get my drift). We all have to start somewhere, it just so happens that the BASICS Mini Double Penetration Dildo lets you start in two somewheres at once.
Realistic, and 13 inches in length, the sheer flexibility of this dildo makes it ideal for solo sessions. There is both a slimmer end and a girthier end, so that you and your other half can experiment with a variety of sensations.
---
This strap-on takes all that is good about dildos and cock rings and combines them, leaving you free to experience sensational double penetration.
Made of flexible rubber, the dildo gives you 5 inches of insertable fun and has a posable core which bends to your will.
At the same time, the stretchy cock ring can help to keep you or your partner's erection strong, while the multispeed bullet vibrator stimulates externally.
---
Has there ever been a sexier double strap-on than this beauty? Feast your eyes on the Double Duty Vibrating Double-Ended Strap-On Dildo – shared strap-on play never looked so good.
This thoughtfully designed toy has been carefully crafted to propel both partners to their pleasure peak, whether it's a pegging or strap-on sex session you're enjoying. Plus, shared vibrations ensure sublime satisfaction.
---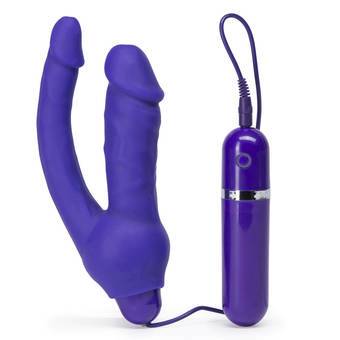 It doesn't matter if you prefer your play time to be shaken or stirred, the Double O Heaven 10 Function Vibrating Silicone Double Penetration Dildo can do both.
This dildo is another great toy for those just beginning to venture into the wonderful world of double penetration.
The girthier dildo has an insertable length of 3.75 inches, and the slimline anal dildo gives you 4.5 inches of pleasure to work with.
The controller lets you or your partner choose from 7 patterns and 3 constant speeds – your sweet spots (plural!) are in for a treat.
---
All you need to do is B.Y.O.C (that's Bring Your Own Cock) to a Lovehoney Double Fun Vibrating Rabbit Double Penetration Strap-On party – everything else is catered for.
The stretchy cock and ball ring component may prolong your erection and delay ejaculation, giving your partner more time to enjoy the combined anal, vaginal and clitoral stimulation.
The rabbit ear stimulators are sure to go down a treat, and the powerful bullet vibrator boasts 2 speeds and 5 patterns.
---
These are five of the most mind-blowing double penetration toys that Lovehoney has to offer, and there are so many more waiting for you to discover them.
Check out our entire range of double-ended delights - they're sure to tickle more than one fancy.
Audrey Andrews is a student blogger for Lovehoney. In her spare time she loves to do craft, but would not advise knitting your own condoms.
---
You may also like: