76% of Brits admit to wanting a relationship during cuffing season
With the nights getting progressively darker and the cold creeping in, 'cuffing season' is truly upon us. From August to September this year, internet search volumes for 'cuffing season' have increased by over 400% and even appeared in over 9,000 UK searches in September. But what exactly does this season involve and how many Brits want to take part?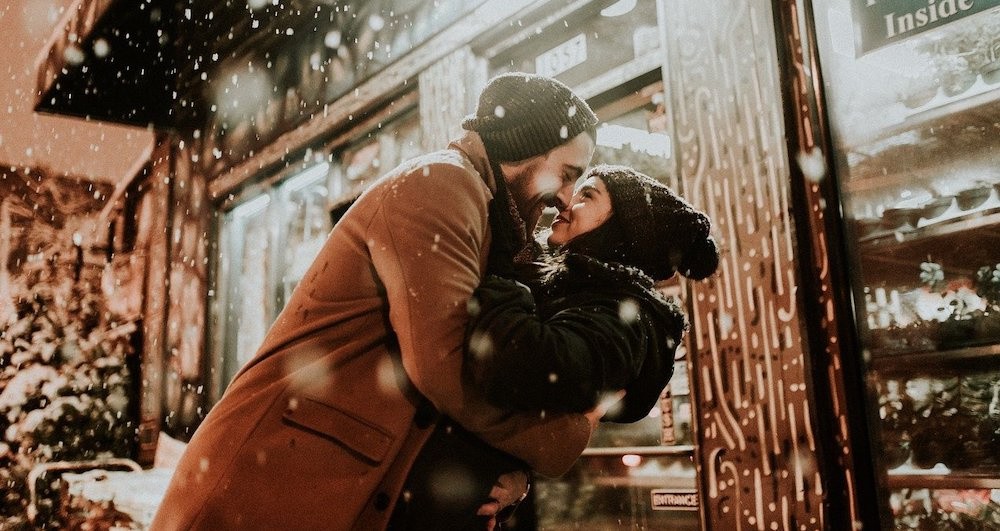 We have revealed, with the help of experts, exactly what cuffing season entails and the psychological truth behind our winter relationship desires. And by surveying adults across the UK, we have uncovered how our relationship status preferences change during various times of year - including cuffing season.
'Cuffing season' defined by sex and relationship experts
Lovehoney Sexpert Annabelle Knight states, 'Cuffing season rolls around every year, always around the same time - when the clocks go back, the nights draw in and the weather outside gets colder. During this time people, usually those who wouldn't normally be looking to get into a relationship, find someone and commit to them. These relationships are usually short-term and come to an end once springtime rolls around the following year'.
Dating and relationships expert Callisto Adams describes a tendency for those who participate in cuffing season to often lower their standards on what they look for in a partner to avoid being alone through these 'cold times'.
What is the psychology behind our desires for a relationship in the winter?
Registered BPS psychologist Lilly Sabir describes a pressure during this time of year to be in a relationship for Christmas, which is likely driven by social pressures.
It is well known from psychology and human behaviour that the different seasons can impact our moods. 'The lack of sunlight, colder temperatures and the tendency to hibernate can lead us to want more human contact as we are not outside triggering our vitamin D levels, which can lead to a dip in our moods', states Lilly.
Sex expert tip: Sex expert at The Sex Consultant Ness Cooper suggests beating the winter blues by incorporating sex toys, as they may help us to reach orgasm more easily, which can lead to a positive boost in feel-good hormones.
As temperatures improve, so do our moods and the need for a partner naturally decreases. Lilly adds, 'We can feed our own hormonal serotonin and dopamine oxytocin levels by being out in the sun and meeting up with others, regulating our own moods better through external environmental stimuli'.
76% of Brits admit to preferring winter relationships
Our survey revealed that three in four Brits (76%) admit to preferring to be in a relationship during the colder months of the year. Results revealed the younger you are the happier you are to be single throughout winter, as 34% of 18-24 year-olds as opposed to 21% of 45-54 year-olds are embracing single life during winter.
It will come as no surprise that the holiday known for love, Valentine's Day, is the time most Brits want to be 'cuffed' with 77% preferring to be in a relationship over being single. Following closely behind in second place is Christmas time, when singletons up and down the country start looking for someone to cosy up with on the sofa, watching festive films and exchanging gifts.
Sex expert tip: Ness suggests using sex toys can strengthen your bond with a new sexual partner, by helping to open up communication about other sexual desires you may want to explore. Once sex toys are introduced into the bedroom other things may feel less taboo.
Sheffield is revealed as the cuffing season capital of the UK
Sheffield was revealed as the city with the most citizens seeking winter romances as just 15% said they would like to be single during the colder months - meaning nearly 9 in 10 people want to be coupled up. Edinburgh follows closely behind, with 84% of residents agreeing they prefer to be cuffed during the winter.
The top 5 cuffing season capitals of the UK:

On the other hand, the survey showed 32% of Leeds citizens are happy to be single and free during winter months, closely followed by Manchester and Brighton. As these are large party cities, residents may have less time to date and explore relationships due to all the fun activities surrounding them.
Sexpert tips on having sex with a new partner for the first time
For Britons who will be coupling up - or just casually dating - this cuffing season, read on for our sexpert Annabelle Knight's top 5 tips for having sex with a new partner/s for the first time:
1/ Talk about boundaries
It's so important, no matter what type of sex you like to have, to know both your boundaries – as individuals and within your relationship. Establishing this beforehand will mean that your initial encounters will be far more pleasurable.
2/ Take it slow
Rushing into any kind of sexual escapades before you feel truly ready is unlikely to feel as good as it could do. It's especially important with a new partner because you don't know each other's bodies yet. Take your time to get to know your new partner's body, check in with them, ask them how they like to be touched, and get them to show you if you're unsure. All of this is a great way to explore each other together and to build a strong sexual foundation.
3/ Don't be afraid to have a laugh
OK, so sex probably won't be as rip-roaringly funny as a stand-up show, but in almost all sex sessions there may be cause for a giggle. Accepting that sex is sometimes funny can go a long way to creating a relaxed and playful environment for you both to enjoy.
4/ Don't focus on orgasm
Orgasms are great, but they're not the be-all and end-all of good sex. A mutually pleasurable, consensual, and respectful encounter can be just as mind-blowing as any orgasm. The more climax is emphasised as the pinnacle of great sex, the less likely you are to achieve it. Instead, concentrate on what feels good in the moment and focus on shared pleasure between you and your partner.
5/ Don't forget 'aftercare'
If foreplay is how your intimate moments should start, then aftercare is how they should end. In essence, this is a post-coital debrief that allows you and your partner to increase intimacy bonds through communication. You can talk about what worked for you, what didn't, and what you'd like to try next time. It also allows for both partners to check in with one another and make sure that their emotional happiness is taken care of.
Methodology
The survey data in this study was based on a survey of 2000 adults in the UK who have previously had sex, which took place in November 2021.
Search volume data was collected using Google Keyword Planner using the term "cuffing season" from August 2021 to September 2021.