How to Use Nipple Clamps and Suckers
Meta Description Learn how to make the most of one of the most sensitive zones on the body with Lovehoney's guide on how to use Nipple Clamps.
Your nipples are two of the most highly sensitive little beauties on your body - you'll know this if you like to rub, touch, or even squeeze your nipples during sex.
If you don't, then settle down as we explore their hidden pleasures and learn how to lavish them with the extra erotic attention they deserve!
If it's your first-time using nipple clamps or suckers, we recommend giving them a test run on a less sensitive area of your body before you use them on your nipples. Good places to try are the tip of your finger or your earlobe - just to see how they feel and what it feels like when you take them off.
How to use Nipple Clamps
Adjustable clamps are probably the best place to start as they allow you to easily try out different intensities. Some clamps come with an adjustment ring so you can slide up the arms, while others feature an adjustment screw you can simply twist to change the intensity. The trick is to start off loose and increase the tightness slowly until the pinch is just right.
Once you're comfortable, try wearing your nipple clamps during foreplay or even sex with your partner - they'll make sure your nipples are always part of the fun, even if your partner's hands (or mouth) are occupied elsewhere.
When you remove them, you may experience arousing tingles in the area - and this point is a great time for your lover to follow up with licks, strokes, kisses, and tickles to keep the rush going. Both nipple clamps and nipple suckers draw blood into your nipples, making them extra-sensitive after your nipple toy is removed.
The sensation of the blood rushing back into the nipples can cause a rush of endorphins, which can make any sensation (think blowing air, a tongue, a vibrator) feel far more intense and pleasurable.
How to use Nipple Suckers
Like clamps, nipple suckers draw blood into your nipples, making them super sensitive after they're removed. Nipple suckers work in a very similar way but are far gentler and can be especially helpful in perking up inverted nipples or for those starting on their journey.
What is nipple play?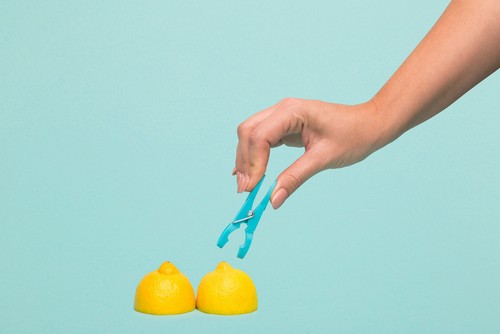 Nipple play is the act of stimulating the nipples with physical touch. This can be through hands, tongues, feathers, or toys - the choice is yours.
Nipple toys are often associated with BDSM and pain play, but nipple play can be done at all different levels of intensities. So, if you're into a gentle tug rather than a big squeeze, that's all good.
It's also worth knowing that around 1% of the population can climax from nipple stimulation alone. That's a whole lot of lucky people and, who knows, you could be one of those who's got a 'nipple-gasm' hiding in there somewhere!
Why do people like nipple play?
This is because it's a highly sensitive area of the body, with lots of delicious nerve endings, just waiting to be woken up.
But nipple play isn't all about reaching or super-charging the big O - it can be great on its own to enhance a steamy solo session or be enjoyed with a partner during some feisty foreplay. It's also popular as it can be enjoyed by anyone with nipples, no matter their gender.
How to play with nipples
Firstly, it can be a good idea to have a bit of solo exploration time to work out how to play with your nipples before adding nipple play to your couple's session.
You can then figure out what you like, and what you don't, without having to worry about another person.
It's also useful to go in with your hands and fingers first before rushing into using toys. Practice makes perfect here!
If you like the feeling of stimulating your nips with your fingertips, then reach for the toys.
How to stimulate nipples
Before you just grab some clips and put them on, you'll want to prep the area for action. First, get the skin nice and warm. A good long session of foreplay is the trick here - lucky you! Massage the breast tissue (including the nipples), then softly begin to squeeze, suck, and worship those nips.
Which nipple toys are right for me?
Nipple toys come in all shapes and sizes, from simple tweezer-style clamps to fun, glow-in-the-dark suckers. You're sure to find one to suit you.
But how do you choose?
Well, it all depends on what kind of feeling you're looking for.
If this is your first time exploring the world of nipple play, we recommend soft, silicone nipple suckers for a gentler pinch. Or, if you're after a more intense experience, you could try weighted nipple clamps for a real squeeze.
The great thing about nipple toys is that they can provide all levels of intensity, so no matter what you're looking for, there's a toy that's right for you.
Newbies will want to get their head around the lingo. Here we go:
Nipple Suckers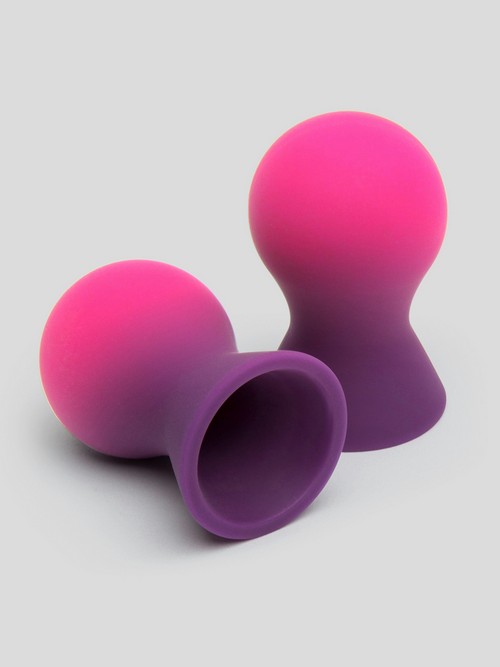 Perfect for nipple play newbies, nipple suckers create a - yes - sucking sensation on your nips, creating a feeling similar to oral stimulation. Simply press the bulb at the top, place it on the skin and release to create a gentle suction effect. This increases blood flow and sensitivity, especially when you remove them.
Shop our range of nipple suckers
Tweezer Clamps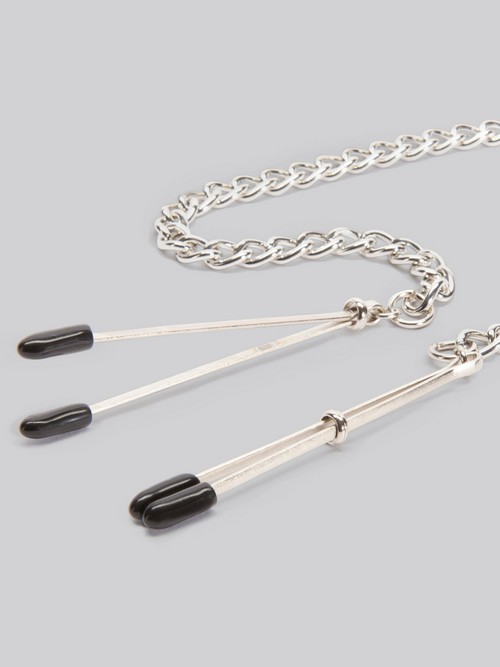 Tweezer clamps are adjustable, they're great if you're just starting out and exploring what intensity you enjoy. They look like tweezers with a small ring used for tightening are probably your best bet.
Shop our range of tweezer clamps
Alligator Clamps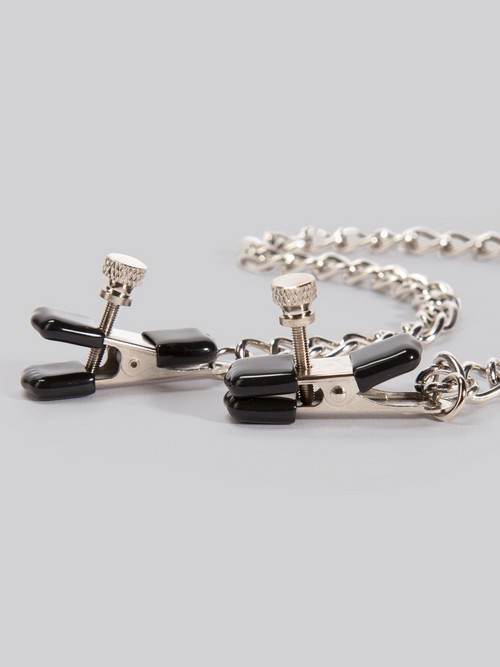 Alligator clamps let you adjust the pressure by loosening or tightening the screws. Some have rubber tips and others have "teeth" under the rubber to increase intensity. They're a bit harder to use, but they're a step up if you're looking to ramp intensity easily.
Shop our range of alligator clamps
Magnetic Clamps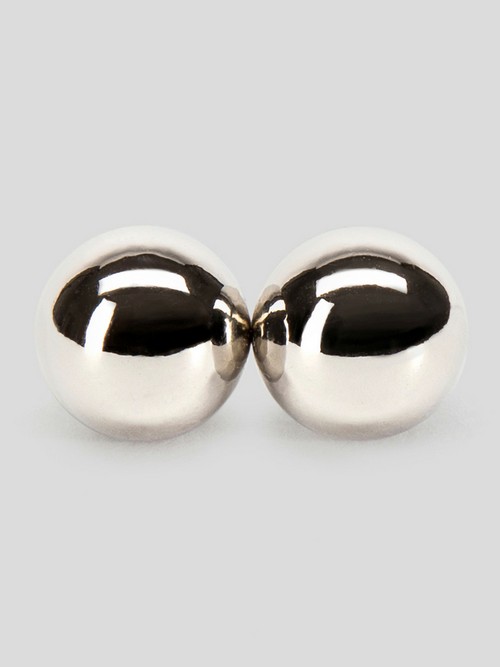 Looking to take thing to the next level? Why not give magnetic clamps a whirl? The magnets themselves pinch the nipples as they try and touch each other and get nice and tight.
Shop our range of magnetic clamps
Vibrating Clamps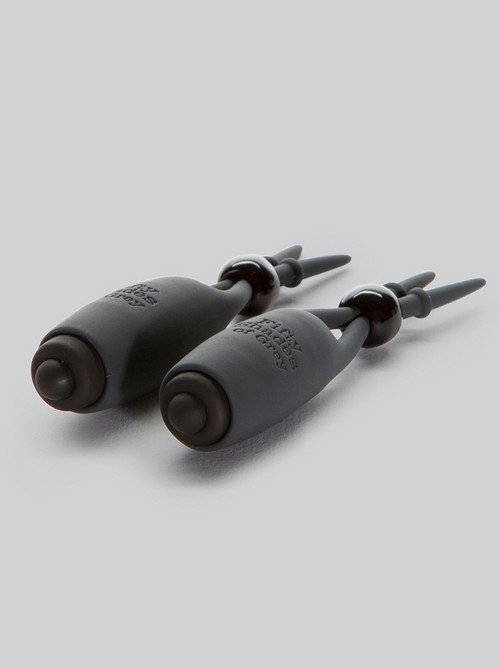 Easily the most advanced option, vibrating nipple clamps provide a whole world of new sensations. They let you switch up how much and how frequent you want your vibrations depending on where you're clamping.
Shop our range of vibrating nipple clamps
How to have a nipple orgasm
Nipple orgasms? Yes, please. Some say they're like a regular orgasm, but others say it's like a super-charged orgasm all of its own. Think vibrations through your whole body and you're close. The best part? Nipple orgasms often come before a genital orgasm so, if you want to have multiple organs in one go, well … what's not to love?
Like everything worth doing, there's a bit of practice involved. Experiment, listen to your body, and focus on the pleasure aspect... not just the goal of orgasm. Experiment with a light-to-moderate nipple touch with your fingers, then maybe turn it up a notch with some gentle pinching, twisting, and squeezing of the whole area.
You'll soon know what pressure you like and, if you want more, then you can pull the nipple or reach for the toys.
If you're not one of the lucky ones who can orgasm from nipple play alone, then you might want to bring in some vaginal play when you're close to climax to seal the deal.
How to have amazing nipple play
Nipples are amazing things and, guess what? Everyone's got 'em and now you've got the info to guide you on a fun new journey. They're a super-sensitive erogenous zone and with the right kind of stimulation can create mind-blowing pleasure for you or your partner.
Whether you're a nipple play fanatic looking for some new tricks or you just want to try these titillating (pun intended!) techniques for the first time, there are a few safety tips worth thinking about.
Nipple Clamp safety tips
Make sure you never wear your clamps or suckers for more than 10 minutes at a time. Disrupting your circulation for that long may leave the area numb instead of sensitive and enhanced, leading to a disappointing and potentially painful outcome.
Try and use your nipple toys with a simple water-based lube to enhance your experience and keep you or your partner safe. No one wants something sticking or pinching in the wrong way.
Remember: when you're aroused, your threshold for pain tolerance can increase. So you may feel fantastic when you're playing and in that post-orgasm glow, but a few hours later you could feel a little achy. Popping something cold over the area and light-fitting clothes are your best friends here.
Piercing Clamps
If you've been thinking about trying nipple clamps and you've already got pierced nipples, then please wait until the piercings are fully healed.
When they are, you can certainly get a clamp involved with your pierced nipples. In fact, you can even buy clamps that are designed with piercings in mind. Many of these attach to your jewellery and will pull and clamp in different ways.
Please take extra care though - you don't want to pull your piercing out or cause damage.
5 Toys for Amazing Nipple Play | Nipple Clamps, Nipple Suckers and More!
Nipples are amazing things and, guess what? Everyone's got 'em! Find out how to stimulate your nipples for out-of-this-world pleasure, fast-tracked orgasms and (potentially) the elusive-yet-mind-blowing nipplegasm!
Recommended Nipple Clamps and Suckers