Bringing Bondage to the Bedroom: Kink with a New Partner
Bondage is fantastic fun, spectacularly sexy, and often the perfect play to bring any couple closer in quite a number of literal and metaphorical ways.
But when it comes to sharing your love of restraint and sensory deprivation with a new partner, it's not always easy to know how to bring it up.
First impressions of bondage, however, as well as media-reinforced misconceptions, can be far less favourable.
Sharing this kink with a new partner can be highly rewarding, but must be done with due care and sensitivity.
With this in mind, I've created these simple and safe tips to help you introduce your partner to first-time bondage without fear.
---
Talk It Through
There is one piece of advice more crucial than any other, and it's as simple as it is important: communicate!
If you want to try bondage with someone new, it's important to take the time to sit down with your partner and actually discuss the realities of what bondage is, why you would love for them to try it with you, and how it's not actually all dark dungeons and full-body latex suits.
It should go without saying, but affirmative consent is vital here: while it may be a dream come true for you if a partner surprised you by whipping out a pair of handcuffs mid-session, for them, it might be entirely the opposite.
For example, don't assume they are OK with flogging, just because they've expressed an interest in trying out some rope play.
Remember: for a beginner, bondage can be kind of nerve-wracking, even if it's with a partner you trust a great deal. The benefits of starting with casual, light bondage and slowly ramping up over a period of time, as your partner grows more confident with it, cannot be overstated.
They'll have a much better time in the long run and you get to rediscover the basics that made you enjoy it so much in the first place. As ever, with bondage and all forms of BDSM, however light, remember to make sure you have safe words established!
---
Choose Your Toys With Care
So once you've broached the basics, it's time to move onto the fun stuff - the toys themselves!
Again, you'll want to be starting with the more basic, less intimidating toys for now and, luckily enough, a broad range exists aimed at providing exactly that.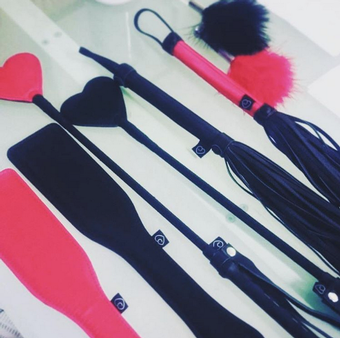 First up, we have the very basics of bondage, the cornerstone of kink: the restraints. Whilst most people's minds jump straight to ropes, they might not actually be the best choice to start with. Poor use can lead to cutting off circulation and rope burns, and, once on, typically require both partners to remove.
Bondage tape such as this is not only cheap and reusable, like rope, but can be stretched and wriggled out of by the submissive which should make everyone more comfortable.
It's also as easy to apply as regular tape, but has the advantage of only sticking to itself, so there is no painful removal. Its countless uses and striking aesthetic all add up to make it an absolute must buy for your early endeavours.
Tape is great, but what if you just want something lighter and tamer, either as a starting point for bondage or just as an enhancement to your regular sex? This is where the blindfold comes into its own. Simple blindfolds such as this are easy to use, comfortable and sexy.
By removing the use of one of the submissive's senses, the sexual stimulation is greatly heightened, as is the ensuing pleasure. Combined with the ability it confers to tease and surprise your partner, it can be a wonderful and thoroughly non-intimidating addition to any sex life.
Finally, the single most iconic bondage item is almost certainly the handcuffs - but they are not without their flaws. Uncomfortable, unnerving and generally a little intense, they provide restraint but not without drawbacks for the first-time submissive.
Instead of the typical police-style lock-and-key cuffs, why not try some flexible, comfortable, padded velcro cuffs such as these? A good pair of cuffs provides great restraint without sacrificing comfort, and can often be found in a bundle with a blindfold, saving you money.
---
One Last Thing…
So, your partner is keen to try bondage, you have your toys and you're headed to the bedroom. Any last pieces of advice?
Just the one: remember - good sex is fun sex, and an understanding of this will bring both you and your partner so much more pleasure than focusing on being 'sexy' ever will.
Your partner will be nervous and you might just be too, so relax, take things slowly, make sure you're both consistently comfortable with everything you're doing and relax! The worst case scenario is at least your partner knows bondage isn't for them and, if that's not the case, you both have a whole new avenue of sexual experimentation to explore together.
The ViBlogger is a student at the University of Leeds, where he studies Astrophysics. When he's not writing for The Sextbook, he can usually be found in a Yorkshire field reenacting the 12th century.

---
You may also like:
---
Need more help?
You can Contact Customer Care, who will be able to help you find the right bondage accessories for you. You can email, telephone or live chat to an experienced advisor from 24 hours a day, 7 days a week.
The other great place to look for people's advice is on the Lovehoney Forum, where our community is on hand 24/7 to give their opinions and tips.
Contact Lovehoney Customer Care | Visit The Lovehoney Forum
---