Electro Sex Toys
These sensational electric sex toys use electricity instead of vibrations to stimulate your most intimate body parts. Explore the world of E-stim with a variety of devices including Electrapads, electrode clamps, kegel balls and more!
Powered by batteries or mains, these units and accessories give you a deeper, more intense stimulation than vibrating sex toys that tickle and tingle you to climax. When used solo you'll enjoy a range of sensations suited for both internal and external stimulation, often leading to hands-free climaxes. When using a device you share with a partner you'll experience the sensual erotic tingle wherever you kiss, touch or caress one another, deepening your shared pleasure. Learn everything you need to know about electrosex with our helpful Beginner's Guide to Electro Sex Toys.
What Is E-Stim?
Curious about e-stim and want to learn more? Or had your first taste of that electric tickle and can't wait to get your next hit?
We've got everything your need to perfect the art of electrostimulation (and understand how it works) so you can choose the perfect electrosex toys, and keep sending those delicious electrical waves of pleasure to that orgasm-inducing spot.
E-stim stands for electric stimulation and means sending gentle, low-voltage electrical pulses through the skin to stimulate your senses. It'll make muscles gently contract, invigorate the nerves to make them more sensitive, and even increase blood flow for extra arousal.
All of which adds up to the most deliciously deep, spine-tingling orgasms.
You might be a little intimidated by e-stim, but if you've ever used a toning waste belt you'll understand that an electric current can be a very light and pleasant feeling. Electrostimulation is also used for pain relief, improving sports performance and in medicine.
We're just exploring the kinky side and suggesting some extracurricular ways it can be used in bedroom bondage.
How kinky depends on your personal preference.
At low levels e-stim feels like a tickly vibration, with a few deeper muscle contractions. At higher levels, that tickle will develop into a prickly feeling with more frequent throbbing muscle contractions.
These deep sensations can induce higher-quality hands-free orgasms (HFO) than vibrations alone, which is why people come back to e-stim again and again.
Electrosex Toys
To start make sure you have to have an electro stimulator unit to create a current, as most of the time these are sold separately to electrosex toys themselves. The units are usually sold with a pair or electro-stim pads, which are a fabulous way to get started with erotic e-stim.
Try attaching the pads to your yourself or a partner either side of a place where you'd like to feel that sumptuous current pass through. Imagine one at the top of each thigh and the feeling in your groin as the current washes through your body…
There are a few places you shouldn't attach the pads, so always read the safety guidelines that come with the unit.
We recommend the ElectraStim KIX Beginner Electrosex Stimulator Kit, designed as a beginner-friendly induction to electro-stim's tickly temptations. It has 5 different play modes and a colour-coded LED intensity spectrum so you know exactly what level of current you're playing with at all times.
For anyone who's feeling that bit more confident that they want to explore all the joys electrostim has to offer, the ElectraStim EM60-M Flick Electrosex Stimulator Multipack Set is the one for you. This multipack offers an array of delightful external tingles and internal pulses through the cockloops and dildo you'll channel them through.
Make sure you have some water-based lube and electro-conductive gel to hand, and read the instructions carefully on where and when to lather up.
Penis E-Stim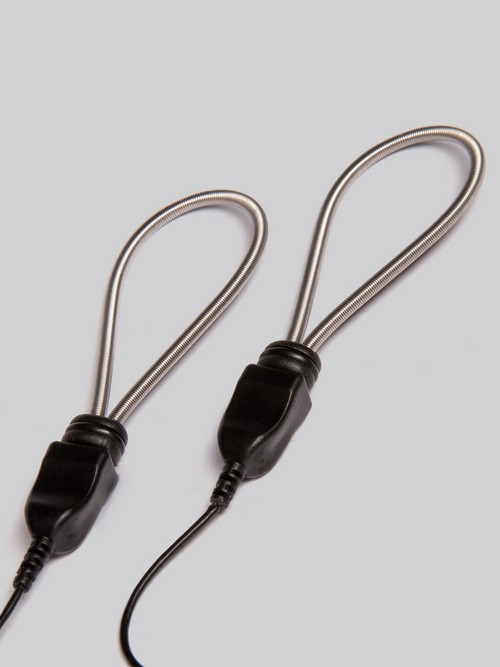 Looking specifically for e-stim toys that'll send those delicate electrical waves down your cock for even more stimulation? Then look no further.
Our ElectraStim Uni-Polar Metallic Adjustable Cock Loops are perfect for both solo cock-play or sharing sensations with a partner. We recommend fixing one at the base of your shaft and the other around the glans for the ultimate all-over tingly experience.
If you're looking for something a bit more substantial to wrap around your penis, then awaken your senses with the ElectraStim Uni-Polar Electrosex 1.4 Inch Prestige Cock Ring.
Flawless hypoallergenic stainless steel with 8 equally spaced holes gives you the perfect base to slather with conduction gel and get maximum pleasure. Place anywhere along an erect shaft for tingling bliss.
E-Stim Dildo Want to take those electric waves inside yourself and feel that throbbing in your G-spot, P-spot and every other spot you have?
Our ElectraStim Bi-Polar Electrosex Wave Metal Dildo 7 Inch is a sleek, ribbed polished steel delight by itself, but plug it into an electrosex power unit and you'll soon be experiencing orgasms like never before.
More intrigued by the soft touch of silicone over the sleekness of polished steel?
Then the Electrosex Silicone Komodo Dildo might be more up your street. Suitable for vaginal and anal sex, attach this red silicone dildo to your electro stim stimulator for tingly sensations while the ridged shaft of the dildo itself pushes against your G or P-spot.
It'll take you over the edge into throbbing electrified bliss in no time.
Bondage Guides
Step this way to discover more about the world of bondage.