How to Use a Cock Ring
With the power to potentially increase stamina, enhance erection size and delay orgasm, we think absolutely everyone (with a penis) should not only own a cock ring but also know exactly how to use it.
That's where we come in. If you've heard of cock rings but are unsure how they work and what they can do for your sex life, you're in the right place. Read on for more tips on exactly how to use a penis ring. Plus, for those with vaginas, know that there are plenty of ways these pocket rockets can enhance your sexual experience too (whether you're with a penis-owning partner or playing alone).
What does a Cock Ring do, and how does it work?
"Multi-tasking" should be the cock ring's middle name. You may see them listed as "stamina rings", "love rings", or "penis rings", but they all do the same fantastic job of boosting your erection and enhancing your pleasure. What's not to love?!
Cock rings work by preventing blood from flowing back down the penis, meaning that blood is trapped in the penis for longer. This increased amount of blood in the penis results in a stronger erection and can heighten sensitivity, which may help to make erections feel harder and last longer than usual. No bad thing, right?
Your individual experience might vary depending on the cock ring you choose (more on the different types below), but one thing's for certain: cock rings can open up a whole new world of pleasure for you to explore.
How to wear a Cock Ring
Some people choose cock rings that are worn on the shaft of the penis, while others like the feeling of cock rings that go around both the penis and the testicles. Whichever type you decide to try (or maybe you fancy giving both a whirl), our handy guide below will take you through the best tips and tricks on how to wear a cock ring, and how to get the most out of it.
Find the right Cock Ring size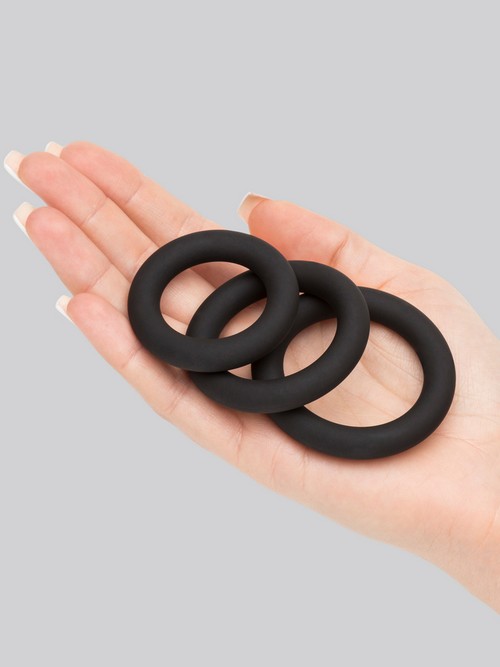 Before relying on your cock ring in the bedroom, we recommend trying it on for size and fit. At no point should the cock ring feel painful or distractingly uncomfortable. If you see a visible narrowing of the penis where the cock ring sits, or your penis becomes very red or blueish, it's too small and you should remove it right away.
You might find that you need to try a range of cock ring sizes before finding the one that's right for you.
Take it from someone who's tried it, such as customer LoverPlanet who says: "The large ring is a nice fit, enough to know it's there but not too tight. The medium ring is very good at making my erections very strong. The small ring is too small for me." So, test out a few different sizes if needed and see which one feels the best.
Slide it on with some Lube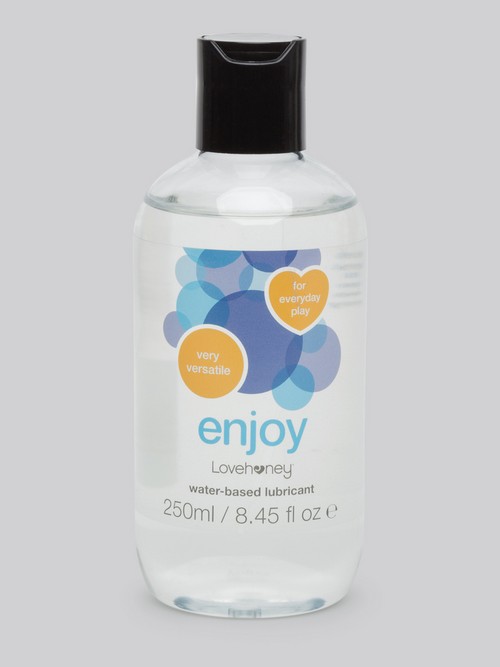 You should put a cock ring on when your penis is flaccid, and it's usually easier to slip your way in with the help of some lubricant. We generally recommend using a good quality water-based lube, as this is compatible with all cock rings, no matter what type of material they're made from.
When putting on a cock ring, simply slide the ring over the head of your penis and then down the shaft, making sure it rests at the base. When wearing a cock ring in front of the testicles, you can also put it on once you're partially erect.
If you're wearing a cock and ball ring, which sits behind your testicles at the base of the penis, put the testicles through first, one at a time. You can then gently fold your penis up through the ring and slide it into position.
Looking for a tried-and-tested method for how to put on a cock ring? Take tips from customer GooseJelly, who says: "The rings stretch quite far and are easy to put on. Just put a bit of lube on the inside of the ring and then on your penis. Stretch it, then slide it over right to the base, and there you go, you're good to go."
How to use a Cock Ring for solo play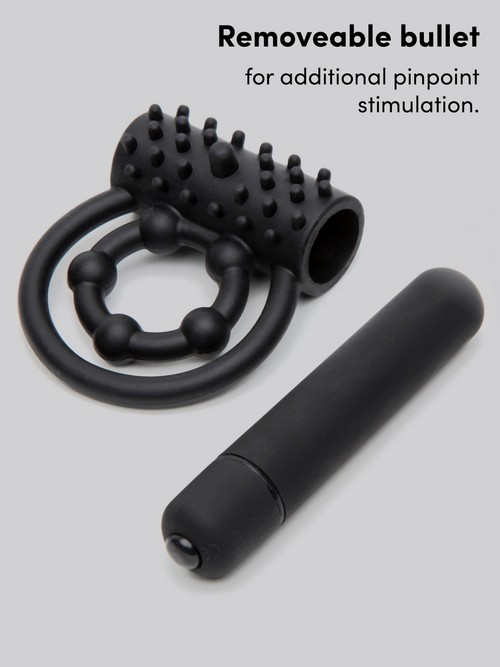 Cock rings aren't just for increasing your staying power during sex with a partner. Try wearing a vibrating cock ring during solo sessions to add mind-blowing vibrations to masturbation.
Or, if you're not a penis-owner, why not encourage your partner to have a go? Customer sexytime87 has first-hand experience and says: "My partner did use this in solo play too. He had the cock ring on in a different way, with the bullet under his testicles. He said that this was simply amazing as the vibrations were concentrating on one of his more sensitive areas."
Cock rings can be a great companion to solo adventures for vagina-havers too. In fact, despite the name, cock rings don't even need to be on a penis to bring you and your partner pleasure. Why not try sliding a stretchy vibrating cock ring around two or three fingers to turn it into a titillating clitoral vibrator?
You can also pop a vibrating cock ring onto your favourite dildo to create a custom rabbit vibrator for completely tailored blended play. Plus, most cock rings are small enough to fit in your pocket, making them ideal for weekends away or for keeping on hand in case the mood takes you.
Plus, if you buy a cock ring set and find the smallest size doesn't fit your shaft, you can try slipping your balls through it one at a time and using it as a testicle ring instead. The options are truly endless!
Video: How to Use a Cock Ring (Even if You Don't Have a Penis!)
For a full vibrating cock ring demo, check out our handy video guide.
Is it safe to use a Cock Ring?
Yes, a cock ring is perfectly safe to use as long as you follow the instructions on how to wear it and ensure that you're not wearing it for longer than recommended. Always check the packaging, which should provide guidance on this.
At no point should the cock ring cause painful restriction. A cock ring that's too tight can do more damage than good, and your VIP is too valuable to risk.
So as long as you're playing safely, you can sit back, relax and enjoy.
How long can you wear a Cock Ring for?
You can wear a cock ring for up to 30 minutes. Anything longer than this and you run the risk of restricting blood flow too much, so don't overdo it.
Since cock rings restrict blood flow, it's generally safe for your penis to have a slightly engorged look when you wear one, with pronounced veins and a reddish blush. However, it's important to always remove your cock ring after half an hour to let the blood-flow in your penis go back to normal.
More Sexual Happiness Advice
You can never know enough about sex, right? Join us on our sexploration journey via the thriving Lovehoney forum, our weekly Sexual Happiness podcast and our blog.