Vibrating Knickers
Whether you choose a strap-on butterfly vibrator or a pair of vibrating knickers, these discreet sex toys caress your sweetest spots with precise vibrations for pleasure wherever you like!
Butterfly sex toys feature adjustable straps which are worn around the legs to provide hands-free, pinpoint clitoral stimulation during masturbation or sex. Vibrating pants boast an ingenious, hidden pocket which is perfect for slipping your favourite bullet vibe into for sneaky, hands-free play. Learn more about clitoral vibrators in our Top 10 Toys for Clitoral Stimulation guide.
What Are Vibrating Knickers
And, can you really get your rocks off by wearing them?
Let's not get our knickers in a twist. Instead, let's choose some equipped with leg-shake- inducing clitoral stimulation possibilities. We are, of course, talking about the wild world of remote control vibrating panties.
But what are they? Simply put, they're a wearable vibrator that sits neatly inside underwear, delivering a series of pulsing, continuous and rumbling vibrations while you're hands-free. You can even jump into a pear and head out to dinner, handing your date the remote. Some operate via apps, making them perfect for long distant lovers looking to spice up a sexting sesh.
Types of Vibrating Underwear
If you've ever wondered what it's like to twitch with pleasure while you're at the mercy of someone else, then all that's left to do is decide what kind of vibe you're after (ahem).
So, whether you're looking to add to your existing lingerie collection, or enhance the ones you already own, here's the lowdown on what you can get your hands on.
Vibrating Thongs
Thongs are designed to reveal the entire buttock area. As such, these skimpy styles are a favourite for those looking to show off their peaches. Often made in lace, mesh and cotton, they can be worn under a variety of clothes.
Interested in a pair? Try these on for size: Lovehoney Seduce Me 10 Function Vibrating Suspender Thong.
Vibrating Panties
If staying comfortable is part of your sexy M.O. and thongs have no chance of making into your underwear draw, let alone worn, then a pair of vibrating panties could be exactly what you've been looking for.
Put on a pair to show off your best ass-sets: Desire Luxury Rechargeable Remote Control Knicker Vibrator.
Knicker Vibrators
We know you probably have a set that you feel extremely good in. So if you want to feel even better, then why not add one of these little devices to basket?
Created to be worn inside underwear that you already own, these knicker vibrators insert discretely to pack a punch of deliciously versatile vibrations. They also come with remotes and app controls.
Take a look and find the right one to suit your style here: Love Honey Remote Control Knicker Vibrators.
The Best Vibrating Knickers for You
Choosing the right kind and best kind of vibrating underwear might sound like an easy feat, but there's more to it than just colour and brand. We've gone into what we feel should also count - the vibe.
Some people with clitorises prefer a much more subtle build-up, whereas others might like something more powerful and consistent. There's also the noise to consider. Which ones could you realistically wear outside the house without being rumbled? How far can you go from one another without losing connection?
We sifted through what's available on-site to find a bunch that can do a little bit of everything. Here are three devices that we know you're going to love.
1. We-Vibe Moxie App and Remote Controlled Wearable Clitoral Knicker Vibrator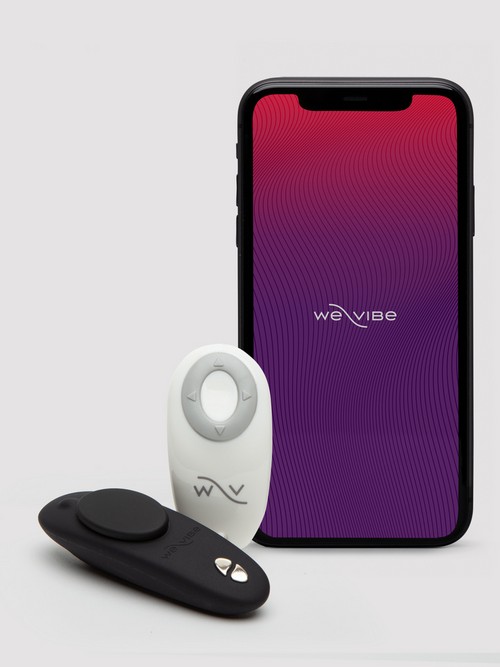 Here's the lowdown if you're looking for an easy-to-use, rumbly experience. Though the We-Vibe Moxie App and Remote Controlled Wearable Clitoral Knicker Vibrator runs a little louder than expected, it can be used across long distances, making it perfect for partnered play.
Here's what our customers had to say about handing over the reins and surrendering to the We-Vibe Moxie App and Remote Controlled Wearable Clitoral Knicker Vibrator:
"Takes a little longer to get to full climax, but hands down the best panty vibrator I've ever had! It has a strong magnet so it stays put, and I love the different features in the app."
2. Desire Luxury Rechargeable Remote Control Knicker Vibrator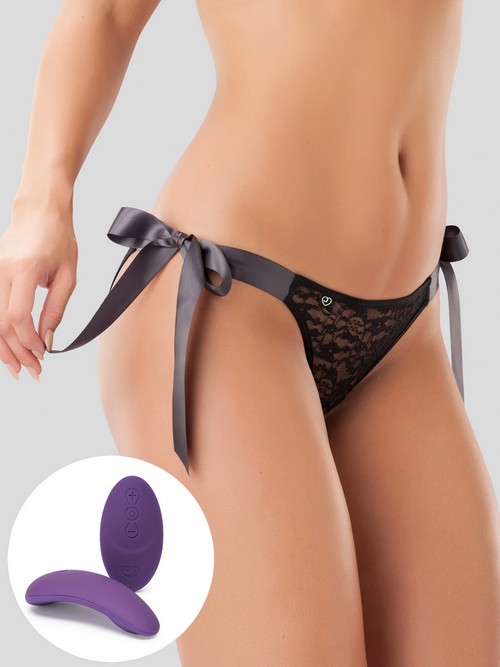 Slip into these high-quality lace panties with ribbon details for a devilishly good time.
Because twelve speeds and eight pleasure-focused patterns at the touch of a remote sounds good, right? Our customers thought so too. Check out what they thought of this rigid, silicone Desire Luxury Rechargeable Remote Control Knicker Vibrator:
"A great way some fun foreplay. Let your partner take control with the remote. Very discreet and quiet, but great vibrations for maximum satisfaction. As with all Desire products, great storage case to easily tidy away."
3. Lovehoney Seduce Me 10 Function Vibrating Suspender Thong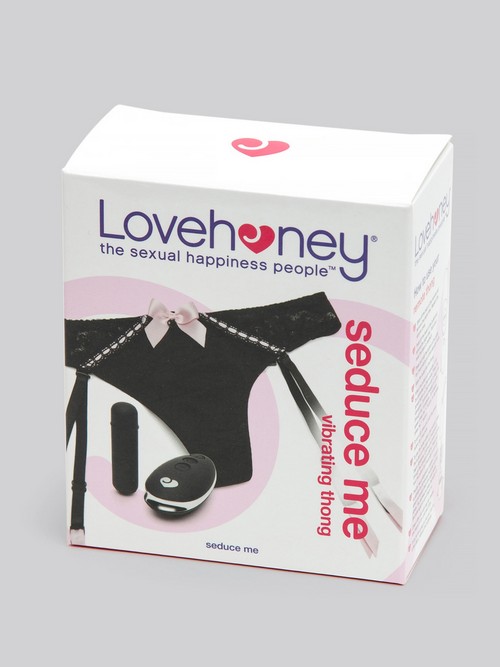 Dress to impress with the
Lovehoney Seduce Me 10 Function Vibrating Suspender Thong from yours truly.
This slinky little number is perfect for those looking to look and feel sexy. Pair up with stockings to reveal a full boudoir-inspired fantasy. The bullet-powered panties deliver a range of ten vibration patterns and four speeds and can be controlled up to five metres away.
"Super sexy panties. Fit so well. Love how you can alter the waist size on the back – a great little feature to make the fit super flattering. Super sexy front and back suspenders. The vibrator itself is a little tricky to figure out at first, but once we got the hang of it, it worked like a charm. So fun and exciting to use with my partner."
More Vibrator Advice
Discover more vibrator pleasures with these Lovehoney guides.