Fisting Lubes
Whether you want to explore anal or vaginal fisting, using the right fisting lube is essential. We've got extra thick lubes for anal fisting, and female-friendly ones for vaginal fisting and large dildo play.
Find out more about playing with advanced girth in our How to Use a Large Dildo guide.
Fisting Lubes: Safe and Long-Lasting
Maybe you've experimented with large dildos or anal play and you're ready to take the next step. You might be interested in getting handsy in a different way altogether. Perhaps you're looking to take your sexcapades up a notch - specifically, VIP entry through the back door.
If fisting sounds like your idea of a good time, you're going to want to make sure you're prepared. Easing in gently is essential - both during fisting and in getting ready for the act itself. It can feel intimidating, and lube for fisting might seem like a minefield. What makes fisting lube different from normal lube? Where can I find high-quality, tried-and-tested fisting lubes? How do I make sure I'm using the right one?
Whether it's your first foray into the world of fisting and you need to ease in gently, or you're a seasoned pro looking for a lube that'll take your play to new heights (and depths), we've got you covered.
Preparation and knowledge are key, so read on for our ultimate guide to the best fisting lubricants out there so you can get fisting with fervour.
What Makes Lube for Fisting Different
You wouldn't just walk into the gym and start lifting weights without warming up, or head out on a long journey without filling your car up with petrol. Fisting is no different - it requires plenty of preparation, and a large part of that is the lube you use.
As much as it feels like a taboo to talk about, fisting fascination is nothing new, and plenty of brands now make lube specifically designed to make fisting uncomplicated and simple. After all, it's a practice that requires care, attention, and plenty of lube for that perfect glide. Given that a fist may be bigger than any dildo you've ever tried, it's essential to use a bespoke lube made with ultimate safety and pleasure in mind. Because, after all, isn't that the end goal?
Fisting isn't reserved for just a certain kind of person - anyone can enjoy this form of intimacy, and it's something that doesn't need to be hidden away in the shadows. But what actually makes fisting lube different?
Vaginal and anal fisting need bespoke lubes to not only enhance the fisting experience but to ensure the sensitive skin is protected during the initial stretch. These lubes are often thicker, slicker and more slippery than your average lube, which is optimal for fun and safe fisting. Some even have a numbing or desensitising effect from ingredients like menthol to ease discomfort for an even more pleasurable experience, and to ease the anxiety first-time fisters might have.
The anus and rectum don't self-lubricate, so a thick, creamy anal lube is imperative for safe fisting, as well as for slide and cushioning. This area can be sensitive, so you'll need a lube that gives extra-lubed sensations for that true fisting pleasure and smooth arrival. By properly lubing up, your adventures in anal will be that much more enjoyable, safe and smooth, particularly when it comes to play like fisting.
With vaginal fisting, you can't go wrong with a water-based lube. While the vagina does provide its own lubrication, a silky water-based lube will only enhance the intense sensations as well as provide that essential glide needed for safe, enjoyable fisting. Silicone is also a great base for vaginal fisting lube due to its long-lasting and non-sticky texture. You can even use silicone lube in the shower if you so desire! The extra slip will take your play to the next level, and give you the smoothest fisting fun you can imagine.
What Are the Best Fisting Lubes out There?
Best Fisting Lube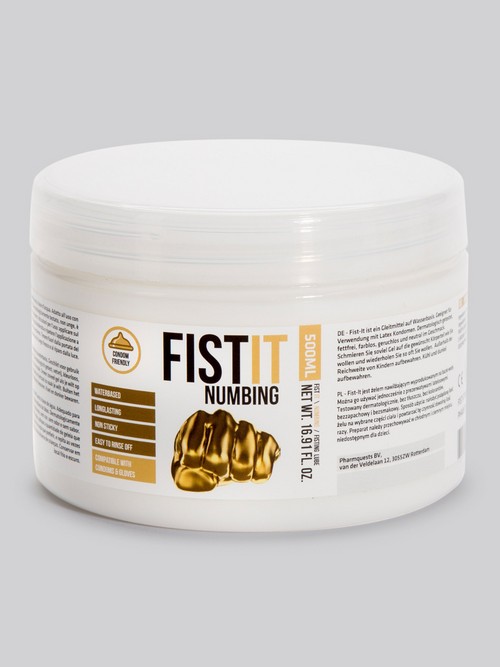 For comfortable, sleek fisting, you can't go wrong with FIST IT Numbing Water-Based Anal Lubricant. This water-based fisting lube contains numbing menthol for a cooling effect and total comfort, making it perfect for both first-time fisters or elbow-deep aficionados.
If it's your first time, relaxation is key, and the brain is one of the most important players in the body when it comes to arousal and enjoyment. And even if you're more experienced, its thick, long-lasting consistency will give you a smooth and easy entrance and enough lubrication to go all night. It's safe to use with latex condoms and anal toys too, so this lube can take you all the way from the warm-up to the main event.
With a gel-like formula in a 500ml tub, the possibilities for your fisting sesh are endless.
Anal Fisting Lube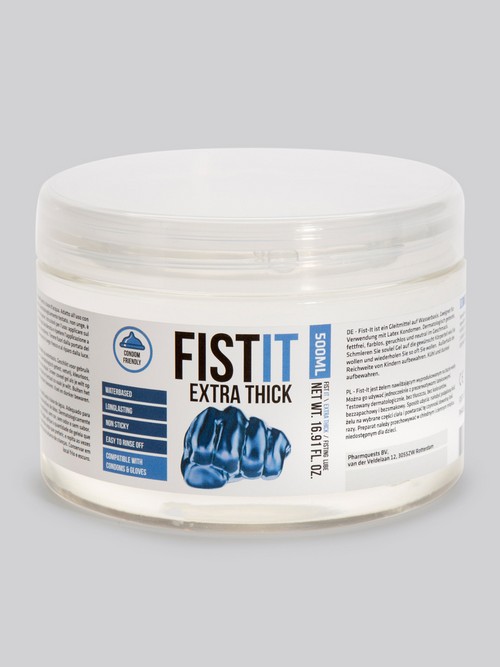 If it's back door antics you're after, you're going to need a long-lasting lubricant that can go the distance. The initial stretch can feel overwhelming, but with proper anal lube, it's nothing to be intimidated by.
Enter FIST IT Extra Thick Water-Based Anal Fisting Lubricant - the ideal companion for rear-end fisting. It's super-slick and extra thick to make fisting as easy as possible, as well as being easy to wash up afterwards - because let's be honest, who wants to spend the post-orgasm glow thinking about cleaning?
It's odourless, colourless and tasteless, so that you can focus solely on you or your partner's pleasure, and its long-lasting formula means you can have hours of fisting fun without any distractions.
Vaginal Fisting Lube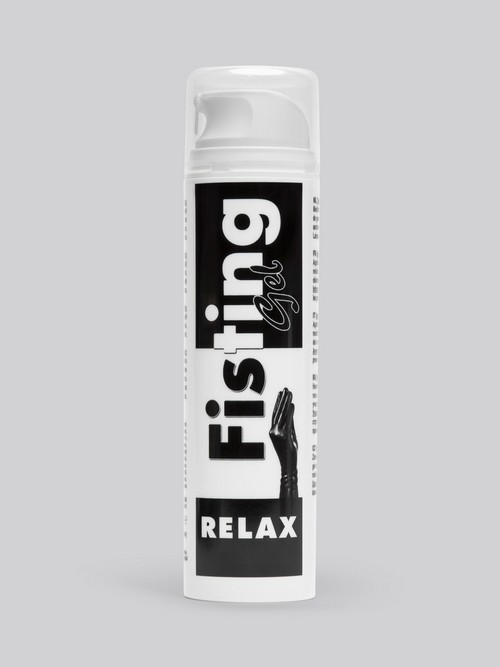 Being able to relax during vaginal fisting is crucial, so you're going to need a lube that not only allows easy and comfortable entry but also makes sure the vagina is prepped and ready for fisting. Even though the vagina produces its own lubricant, a little extra help goes a long way, particularly when it comes to fisting or large dildo play.
Despite the name, Fisting Anal Relax Gel is also perfect for vaginal fisting. Its hybrid gel mixes water and silicone lubricants for the ultimate easy entry, and the gentle desensitising effect allows maximum stretch without the discomfort.
Long-lasting, non-sticky and odourless, this fisting lube is ideal for adding that extra lubrication to the vagina for straightfoward, uncomplicated vaginal fisting.
You May Also Like
Check out these essential guides and find out more about fisting and lubricants.