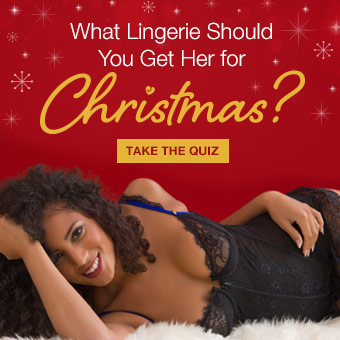 Buying sexy underwear for your wife or girlfriend can seem like a totally daunting task. From bustiers, to basques, bras to bodystockings, it can be incredibly difficult to determine not only what your partner would like, but what would suit them, and what they would feel most comfortable wearing.
Luckily, we've created a simple and stress-free way to determine what kind of lingerie your lady woud love for this festive season: a quiz!
Containing seven questions (and not an algebraic formula in sight) that will determine your lover's likes and dislikes, this Christmas questionnaire will do all the hard work for you, and offer the perfect present from our lingerie collection based on your answers.
All you need to find out before you take the quiz is your partner's bra and dress size (which you can do by having a quick snoop at the labels in her underwear drawer), and pick one of the multiple choice answers for each question to reveal your sexy solution.