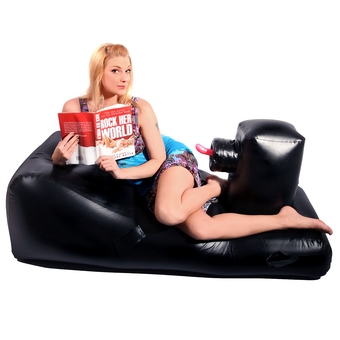 There are few things as expensive as sex furniture, sex dolls and sex machines in the sex toy world. These intricately detailed pleasure givers take a lot of thought, craftsmanship and effort to put together as well as a bulk load of materials. It's no wonder they cost a pretty penny.
Every now and then a mould breaker comes along that sticks a pointy tongue out in the direction of convention, leaving me WTFing in the most splendid of ways. This week's Awesome Sex Toy combines two of the most expensive sex toy types available and slaps a surprising price tag on it to boot.
Fans of sex machines and bondage furniture, I give you the Louisiana Lounger Sex Toy Machine (£149.99).
This spectacularly economical bit of kit incorporates a bondage couch, sex position furniture and a thrusting sex machine in one inflatable package.