Top 9 Sexy Secret Santa Gifts
Take the stress out of secret Santa shopping (and avoid your secret Santa's disappointment at receiving socks) by buying them a sexy novelty gift.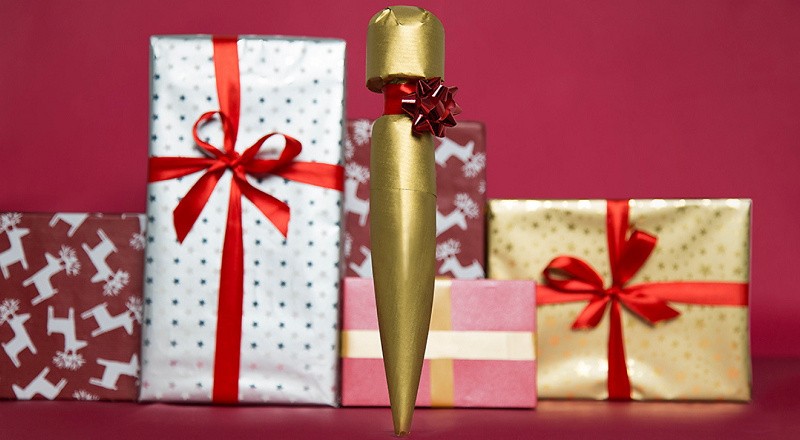 It's that time of year again: when you get to pick your secret Santa's name out of a hat!
A cheeky present from Lovehoney means you can give the gift of (sexual) happiness, without needing to apply your Sherlock-worthy detective skills.
Check out our top 9 sexy secret Santa gifts below and get inspired.
£10 and under
For the one who believes in fate
Lovehoney Position of the Week Dice
£4.79
£5.99
You save:
£1.20 (20%)
Inspired by our popular weekly sex blog, these dice leave the fate on the night in the rollers hands. One dice chooses the position, one chooses who's in charge, and the last picks the location. That's 216 combinations!
What customers say: "We brought these for a little light hearted fun and now we use them lots! With being at home a lot we have found ourselves using these to brighten up the day".
For the show off
Lovehoney Unwrap Me Men's Thong
Presenting the perfect package. This provocative thong from the Unwrap Me collection is the gift of all gifts. Its daring front opening is tied with a soft satin bow that's easy to tug open with fingers, toes or teeth ...
What customers say: "I bought this to surprise my girlfriend since she's always the one dressing up or using something from Love Honey. Every time I wear this underneath my trousers and surprise her with it, it drives her insane".
For the yoga pro or the gamer
Lovehoney Oh! Kama Sutra Playing Cards
When you're playing with these carnal cards, you'll struggle to keep a poker face no matter what hand you're dealt. Taking inspiration from the original Kama Sutra, each card features a different position for you to explore, ensuring everyone comes up trumps.
What customers say: "I bought these and a cheeky little stocking filler at Christmas, and boy am I glad. My BF and I love to play rummy and we have just started using these instead of the other cards. It's great fun".
For the holidays-obsessed fancy dresser
Miss Santa Faux Fur Trim Cape
£11.99
£14.99
You save:
£3.00 (20%)
From bedroom to fancy dress party and everywhere in-between, enchant all you meet in Fever's festive cape. This Mrs Claus-esque classic features a plush red velvet, a thick white trim, and a gorgeous satin bow.
What customers say: "I wore it as a surprise for my other half with just my red pearl thong and it went down a (snow) storm! But just as easily I could wear it over my Christmas dress with the family-they didn't know where I had ordered it from and I had lots of compliments haha".
For the quiet one
Lovehoney Red Furry Handcuffs
Fluffy on the outside, hardcore on the inside. Just like Chuck Norris' beard, these furry cuffs pack a punch. Within the soft faux fur exterior is a set of lockable metal handcuffs for reliable restraint with a cosy embrace and, in red, they're oh-so festive!
What customers say: "For the size and price these are little fluffy miracles. You must buy them! They instantly add that little something to bedroom activities and were a turn on straight away for me and the Mr".
For the one with the sweet tooth (and dirty mind)
Candy G-String
Stop fighting about where to go for dinner and eat in (or out) with this oh-so-sweet candy thong. Made from the same tasty candy as retro edible necklaces, these novelty undies are ideal for adding some delicious fun to foreplay.
What customers say: "The candy panties are the most amazing tasting, and they come with instructions and tips - oh so fun! My boyfriend had a blast with these, and it was fun for him to eat them off me. He says they're very tasty, he couldn't get enough of them".
For festive giggles ... and coffee!
Penis Pattern Novelty Mug
This lovely mug is perfect for a secret Santa gift. Decorated with a marvellous myriad of tiny wieners, it takes a delightfully dirty mind to appreciate this members-only mug!
What customers say: "The penis pattern is very small, so at a quick glance, you can't really tell what it is. But it does make me chuckle every time I look at it closely".
For the foreplay lover
Lovehoney Ignite Pleasure Balm 30g
£8.00
£19.99
You save:
£11.99 (60%)
Get sleigh bells jingling and sexy bits tingling with our Lovehoney Ignite Pleasure Balm this holiday season. Dab a little bit of this thrilling menthol-infused concoction onto your clitoris, nipples or penis and enjoy new pleasurable sensations.
What customers say: "What a little pot of gold this is. Only need a tiny amount and it turns a normal orgasm into an incredible one".
For the risk taker
Lovehoney Oh! Hot Knots Beginner's Bondage Game (3 Piece)
A great cheeky gift for a giggle and some inspiration for foreplay and sex, the Lovehoney Oh! Hot Knots Beginner's Bondage Game lets you explore each other in a variety of activities. You will both get your turn thanks to switch cards that allow you to shift which player is in control.
What customers say: "This game worked wonders and definitely spiced up an already active love life, it allowed us to try out things we haven't done before,, giving in to sensual temptations and most importantly have a lot of fun in the process".