The Top 5 Places Everyone Should Have Sex
It may seem like a small detail, but the location of where you get down and dirty can have a huge impact on your sex life.
Don't get me wrong: rolling around in the familiarity of the bedsheets can hit the spot but, sometimes, it can be more comfortable than sexy.
If, like me, you watch the saucy, adventurous Game of Thrones sex scenes and wish your life could be that exciting (if a little less dangerous), then worry no more – from the kitchen counter to a trampoline, this list covers it all.
If you're seeking to heat up your sexual experiences, you should check out these top five places everyone should have sex. Keep count of how many you may have already ticked off as you read through.
---
1. There's No Place Like Home
Your student digs are full of fantastic places to have sex, and you're much less likely to get caught doing the dirty compared to your parents' house.
If you've already had sex in your shower, then how about trying the sofa, or enjoying the different positions you can experiment with on your dining table?
One of my personal favourites is the kitchen worktop, although you may have to move your housemate's week-old washing-up first...
---
2. Get Camping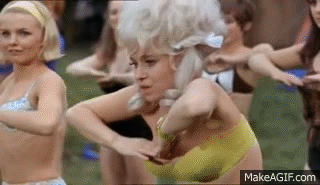 Nothing says intimacy like two people in a confined space with only a thin piece of material separating you from the outside world.
Tents provide the perfect opportunity to get up, close and personal with whomever you're sharing with. The atmosphere of the outdoors alongside the small space can increase the sexual tension to intense levels, which can lead to mind-blowing sex.
Whether you're a recreational camper or only crack the canvas out come holiday season, I'd not pass up the opportunity to enjoy some tent sex.
---
3. Baby You Can Drive My Car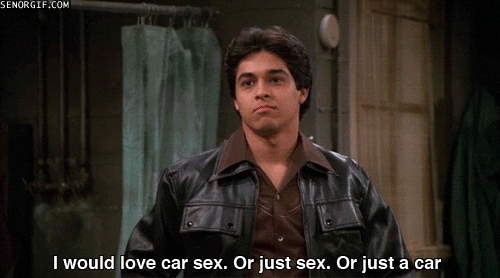 If you haven't yet had sex in a car, then this is definitely one to add to your 'to-do' list.
It can sometimes be confusing whether steaming up your car windows with a partner is illegal or not; however, fear not, because car sex is perfectly legal as long as you're both of age, consenting and in a private location where you're unlikely to be seen.
This means that when the sun goes down you can start your engine, find a secluded spot and enjoy the benefits of the reclining passenger seat. Not to mention, the slight feeling of risk only adds to excitement of the adventure.
---
4. Bone Away From Home
Maybe I'm in the minority with this one, but having sex in a bed that isn't my own really gets my heart racing. There's something quite appealing about doing the deed somewhere that isn't strictly allowed.
It's quite common for people to get a kick out of having sex in their parent's bed. If you're like me, however, then I recommend rolling around in your friend's sheets instead. It's just as thrilling and there's still that sexy, forbidden element about the entire thing.
However, no matter whose bed you're thinking of jumping in, I'd recommend washing the sheets for them afterwards.
---
5. If You Go Down To The Woods Today...
For me, outdoor sex is one of the most exhilarating and arousing experiences. What better place to have a bit of stimulating fun than in some woodland?
The woods are usually concealed and full of peaceful spots that are perfect for a cheeky fumble with your other half.
Again, if you're in a concealed spot then you shouldn't be at much risk of breaking any public decency laws, but if you're concerned, here's a fantastic article from a fellow blogger about How to Have Outdoor Sex (That Won't Get You Arrested).
---
Having sex somewhere else can relight that flame of passion that has perhaps been extinguished by the harsh fluorescent lights in your student halls.
Whilst I've ticked off quite a few of the places on this list, it's now my quest to complete it. How many of these places have you already had sex? Are there any places that aren't on this list that you think should be? Let me know in the comments below.
Megan is a Psychology student at the University of Exeter. She can't quite read minds, but can read bodies.
---

---
You may also like: