Introducing Tease by Lovehoney - Simple, Sensual Bondage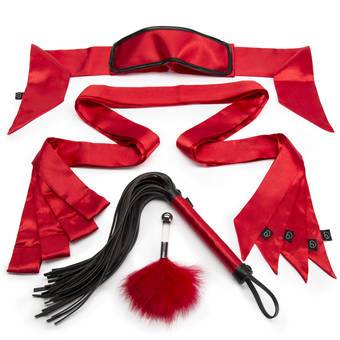 With the popularity of Fifty Shades of Grey showing no signs of abating, and pioneering kinksters like Bettie Page soaring back into the limelight, couples all over the globe are opening their minds (and bedrooms) to bondage.
Couples often ask us how they can inject some kinky fun into their bedroom adventures while maintaining intimacy and romance. Understandably, for some couples, the hard leather and steel look just doesn't do it for them.
Realising that there's still quite a big jump in the product market from 'no bondage experience' to 'beginner's bondage', as well as a tendency for fetish styling to be a bit intimidating (even if the products themselves aren't) we decided to do something about it.
We're very happy to announce our new bondage brand, Tease by Lovehoney; a range of sensual bondage products made from inviting materials and designed for absolutely anyone to use.
So whether you're new to bondage, or know your stuff but want to bring the romance back, read on to discover why Tease by Lovehoney is a perfect addition to your toy box.
---
Simple, sensual bondage for tease with ease…
At Lovehoney, we believe sexual happiness should be accessible to all, and that includes fetish play.
Before creating Tease, lots of customers were telling us they still found introducing bondage to their relationship a scary prospect, even with the wide range of products for different experience levels already available on the website. Many found the styling and packaging for even beginners bondage items were too intimidating at first glance.
It's one thing to talk about tie and tease fun with your partner, but it's another to browse the bondage category and be confronted with a wall of black leather and cold steel. Nervous newbies were being put off, while seasoned pros were getting bored of shopping for the same thing time and time again.
We've taken your feedback and combined it with 13 years of expertise to create what we reckon is the least intimidating, most sensual collection of BDSM equipment money can buy. With luxuriously soft lingerie-like materials and user-friendly designs, we're positive Tease by Lovehoney will satisfy first-timers and old-timers alike.
1. Sensory Tools

Sensory play isn't all about spanking. It can include anything from teasing and tickling, to removing a sense (eg inhibiting vision) or, indeed, spanking.

We've developed a range of 4 sensory products in non-intimidating styles and fabrics to suit all experience levels. Explore our selection of blindfolds, ticklers, floggers, paddles and riding crops to discover your tease of choice.

All finished in travel-size proportions and crafted from glorious satin and delicate feather and faux leather, these toys are suitable for first time Doms and subs, as well experienced players who would rather not buy real leather.

Stroke, tickle, tingle and tease your lover's skin all over, and when you're ready, heighten things further by doing it all again while they wear a blindfold. You'll be amazed at the results (and how intimate this experience can be).

Sensory toys:

Available in red, purple and black

2. Restraints

One thing that new bondage customers tell us is that the transition from soft fabrics found in lingerie and vibrator packaging to rigid materials like leather and metal can be somewhat frightening.

To combat this, we've made the entire Tease collection using soft silky materials that compliment lingerie and romance, rather than clash with it.

Although we usually advise beginners to avoid products that tie in a knot, we've fashioned these restraints for anyone to use.

The handcuffs feature a safety loop that makes achieving the perfect bow a doddle, and ensures releasing your plaything is fuss-free.

If you want full body restraint, our set of 4 siky restraints offer foolproof bondage thanks to a simple loop end that requires no tying, and plenty of length for attaching your sub to anything you desire.

Restraints:

Available in red, purple and black

3. Bondage Kits

Sometimes a complete toy box re-vamp is what's in order and let's face it, most bondage toys are best enjoyed together. Whether it's a blindfold and tickler, or handcuffs and flogger, some things are better in pairs.

That's why we created 2 brilliant kits to kick start your sensual bondage adventures. Negate the panic of not knowing which products to buy together, and purchase a starter kit instead.

There are 2 kits to choose from, depending on how tied up your sub wants to be: a 3 piece soft bondage set, or a 7 piece luxury set.

Also, the kits are made up of individual items that can be used on their own, so there's no need to combine them if you don't want to.

Save some cash while giving your toy box (and sex life) a renovation in one hit with a Tease by Lovehoney bondage kit.

Bondage kits:

Available in red, purple and black
---
What do you think? Have we succeeded in making romantic bondage easier to accomplish? Do you think Tease by Lovehoney will make it easier for newbies to dip their toe in the fetish world?
Can you think of any products which you think could do with a Lovehoney makeover to make them less intimidating?
We love to know your thoughts, so drop us a line in the comments below.
---
You may also like: