Say Heyyyy to Solo Play: The UK's Masturbation Habits Revealed
To highlight the benefits of masturbation and allow more people to feel comfortable exploring solo play, we're revealing the erotic insights and sexed-up statistics of our survey on masturbation habits in the UK.

Indulging in the blissful solo symphony of masturbation is something you can take pleasure in at any time of day, month or year. Not only does it feel fantastic, but regular self-pleasure can have a whole host of other benefits including relieving stress and even improving mental health.
Masturbation is a normal, healthy thing to do and is a perfectly natural part of self-exploration. While there are people who are very open about their masturbation routine, some of us are less comfortable with discussing our solo pleasure feats.
We wanted to get under the covers of perception of solo play, so we surveyed 2,000 sexually active adults living in the UK to find out more about their masturbation habits, sex toy use and openness about discussing them with friends.
So what do people make of masturbation? Keep reading to discover the secrets of being the master of your own sexual happiness.
Half of Brits masturbate at least once a week
We're a self-gratifying bunch here in the UK – nearly half of Brits (48%) get their rocks off at least once a week, and 62% masturbate at least once a month. One in five of us (21%) rub one out several times a week and 12% of us wank at least once a day. Wherever you fall on the fap-frequency spectrum is entirely based on personal preference of course – there's no right or wrong answer to how often you should masturbate.
However, there are some patterns that emerge when we take a look at age group and relationship status.
The younger you are, the more likely you are to knock one out more frequently– with 64% of people aged 18-24 masturbating at least once a week. But self-love knows no age, with almost a third (32%) of over 65s engaging in regular masturbation on a weekly basis.
It may not come as a surprise that singletons beat their meat the most. Almost 3 in 4 (71%) of single Brits masturbate once a week or more, compared to around 60% of those in new relationships and 51% of people with long-term partners, suggesting that having a regular menage-a-moi is still important in any relationship. So, what are the most popular reasons for masturbating?
The majority of Brits masturbate to feel relaxed
Aside from the obvious reason of doing it because it feels good, our research shows that there are a number of different benefits of self-pleasure that motivate Brits to masturbate.
In fact, 57% of us masturbate to relax, which was prioritised as a reason over helping with orgasm (40%) or feeling turned on (31%). One in four survey respondents also say that it helps with their mental health, with this number rising to 1 in 3 for those who are single.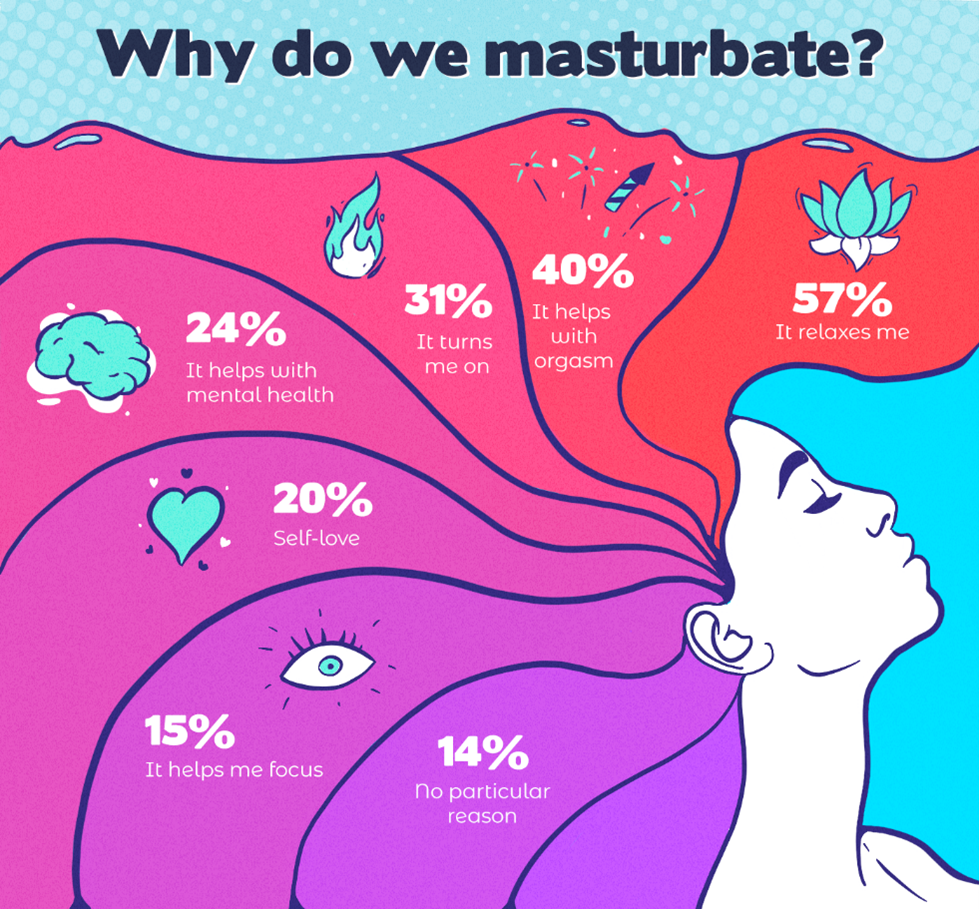 Most of us (88%) feel content or happy after masturbating, and there's a good reason for this too. When we climax, our brain produces mood boosting hormones including dopamine, oxytocin and endorphins.
These hormones are also associated with relaxation and stress relief, particularly oxytocin, which lowers cortisol levels (a hormone linked to stress). The additional relaxation we feel after we achieve the Big O causes 29% of us to feel tired afterwards, which is why many people masturbate to sleep better at night.
On the other hand, it also causes a spike in focus and energy levels for 14% of us – which is also known as 'post-nut clarity'. Interestingly, women are more likely to feel sleepy after masturbation than men (+6%), whereas men tend to feel more productive and energised than women (+5%).
What about using sex toys for masturbation?
When it comes to self-love, almost 2 in 5 (39%) of us regularly explore the exciting world of sex toys to masturbate, and they are used by twice as many women than men.
This shows a significant gender divide in sex toy use by UK adults. While only 26% of women have never tried a sex toy, there's a much higher percentage of men who haven't (60%).
With findings suggesting that men masturbate more frequently compared to women, this disparity perhaps highlights the existing assumptions that the sex toy industry has more to offer women. Yes, women generally find it harder to climax which is why there may be more publicity and acceptance of female sex toys, but there are so many sex toys for men just waiting to be discovered such as male masturbators and fleshlights.
Masturbating with a sex toy not only mixes things up, but can improve your stamina in bed, allow you to experience new, unexplored sensations and push the boundaries of self-pleasure. Browse our complete range of male masturbation toys or check out our Male Sex Toy Guides to help you choose the right male masturbator for you.
Regarding sex toy use in relationships, the group that uses sex toys to masturbate most often is people in new relationships (53%). This exceeds the 46% of singletons and 38% of those who are married and in long-term relationships. Perhaps the feelings of newness and excitement extends to the bedroom in the honeymoon phase of a new romance.
One in five don't tell their partner they use a sex toy to masturbate
Even though a lot of people use sex toys to masturbate, 1 in 5 of those in relationships do not tell their other half. This is the highest in people in long-term relationships, with 28% choosing not to tell their partner about their sex toys.
Using sex toys independently and with your partner can enhance your sex life. They're a great way to explore new sensations and make sex even more exciting. If you're interested in trying out sex toys for couples for mutual masturbation and foreplay, you can find some helpful tips in our 'How to Introduce Sex Toys to your Relationship' guide for some useful beginner's advice.
The majority of people in the UK (40%) don't tend to talk about their sex lives with friends, but 1 in 5 people (26%) joke about it. The younger you are, the more likely you are to discuss it, with 34% of participants aged 18-34 stating that they enjoy talking about it, versus 10% of people aged 45-54.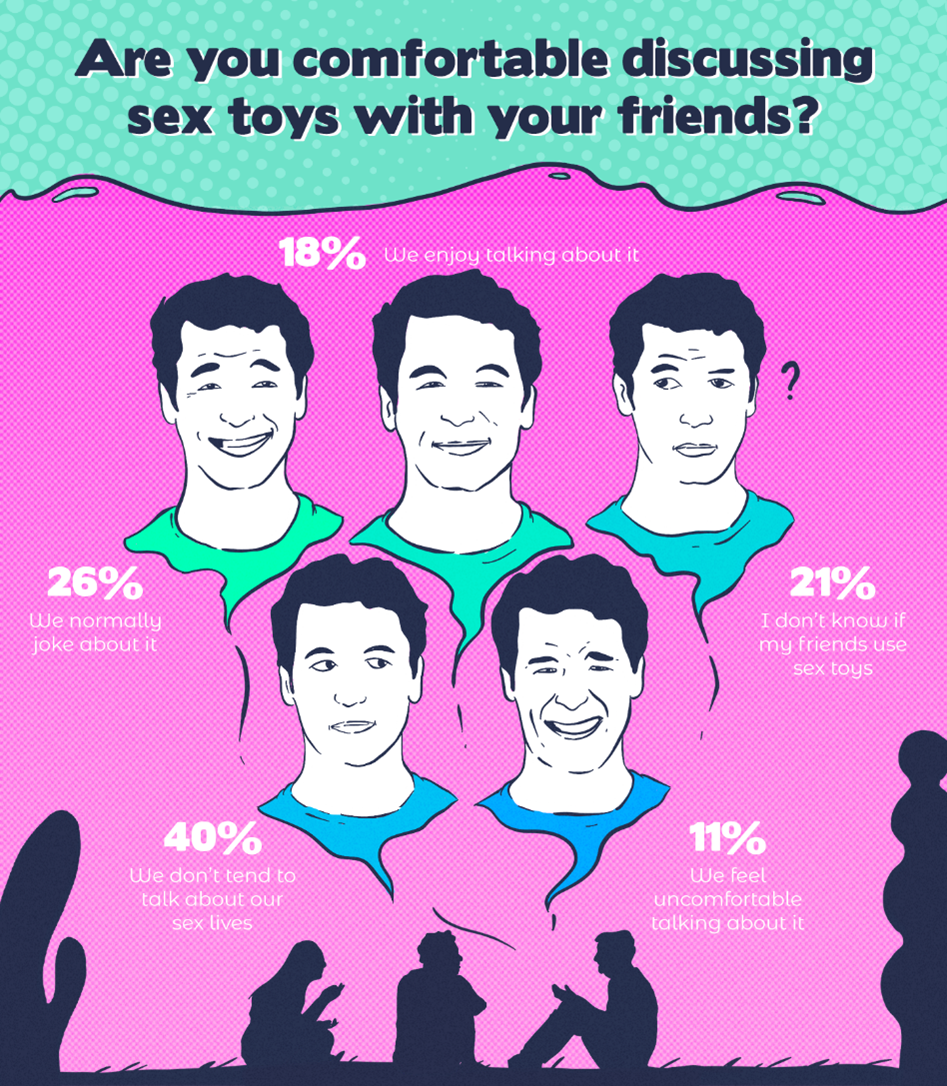 In fact, 20% of Brits would feel uncomfortable if a friend saw their sex toy, while 24% would make a joke about it. However, seeing someone else's sex toy is much less of a bother to people, with 40% of survey respondents declaring that they wouldn't mind seeing a friend's sex toy, with 1 in 4 people saying they would make a comment about it.
The most popular place to keep sex toys for Brits is the good old underwear drawer, with 40% of us opting for this safe, cushioned space to cradle our prized possessions. This is followed by a shoebox (15%), inside gloves (11%) and inside a pair of socks (10%). Keeping sex toys out of sight is also keeping them safe – and we admire the creativity!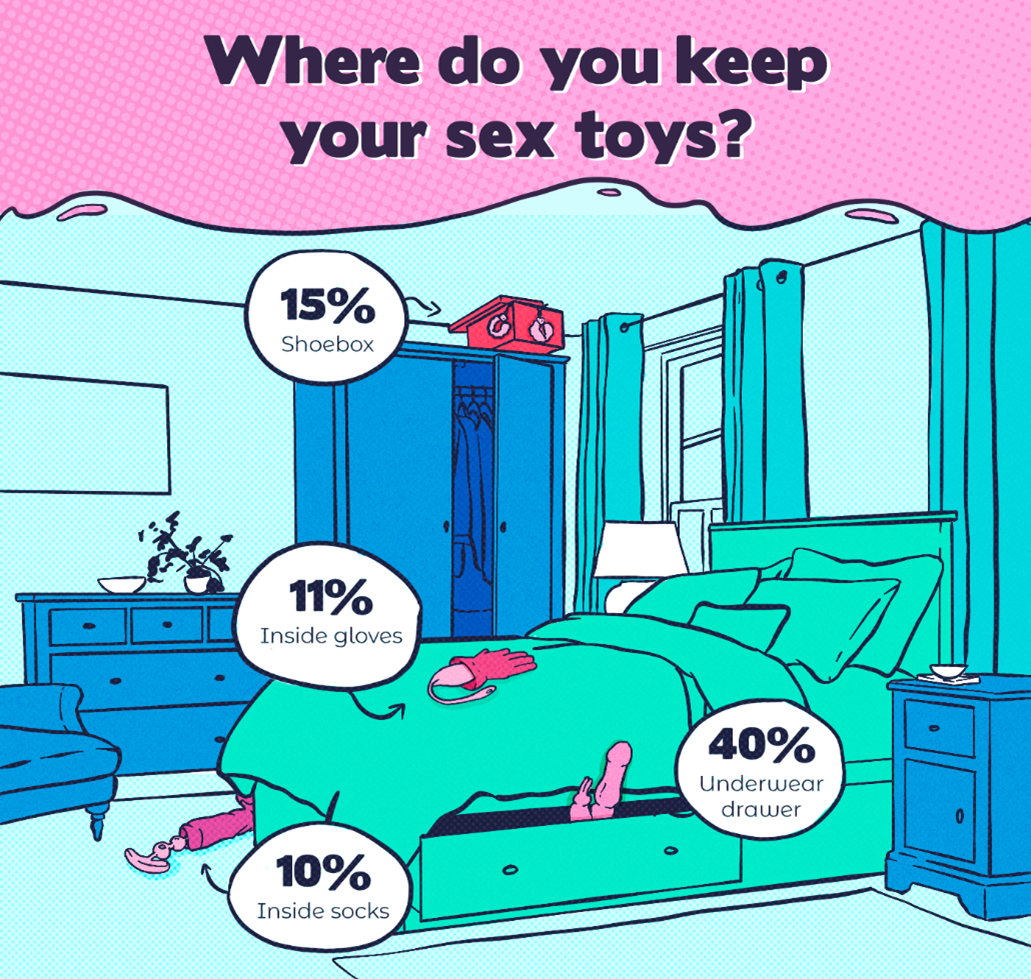 Wherever you store your toys, looking after them properly is important for making them last as long as possible so you enjoy long, uninterrupted pleasure quests again and again!
However you feel about solo play, you should be doing what feels good for you and feel no shame in it. Masturbation is all about self-exploration, self-love and de-stressing.
If you are looking for inspiration, explore some expert tips for self-pleasure including how to masturbate better in our recent guide to sex toys and masturbation by guest Sexpert Rachel Wright. In no time, you'll be loving yourself a little more, and you'll be proud of how far you've come… 😉
Additional Sources:
Healthline.com: Masturbation Effects on the Brain, January 2020