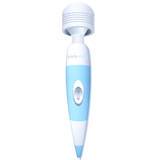 For all of you who were doing your usual Monday morning commute to work this morning, you may have already been introduced to the incredible Bodywand Magic Wand Vibrator.
Debuting in the Metro in a feature asking: 'Could learning to harness your sexual energy make you more powerful at work?', this top-rated mains powered magic wand vibrator is one of the most powerful sex toys available, earning itself rave reviews from Lovehoney customers.
For July only, Lovehoney is giving you the opportunity to discover the new Bodywand and get an extra treat from Durex Play in your basket. Get a free bottle of Durex Play Tingle Lubricant worth £3.99 when you buy the super-powerful Bodywand Magic Wand Vibrator.
Bodywand Magic Wand Vibrator with Exclusive UK Plug £47.99
To find out more about this amazing new addition to our magic wand vibrators collection, watch this video with Lovehoney's Annabelle Knight as she takes us through the thrilling possibilities of this versatile massager vibrator in this weeks Sex Toys TV Highlights.
Plus Free UK Delivery on all sex toys at Lovehoney.