15 Sex Toys (That No One Will Know Are Sex Toys)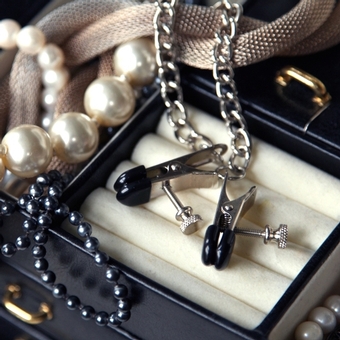 When you're picking out the perfect sex toy, what it looks like often plays a huge part in your selection process.
Sure, we may all long for a bulgingly-veined, intricately-detailed flesh-tone dildo with bulbous balls, or a velvety-soft vulva in a tube, but should you accidentally forget to close a drawer or have one of those snoopy roommates, they're not the most… discreet of items.
While we believe no one should be ashamed of masturbating or using sex toys (after all, as Jim's dad would say in American Pie, "It's a perfectly natural, normal thing"), we also appreciate that letting your freak flag quite so blatantly isn't always appropriate.
So, in the name of incognito intimate explorers everywhere, we've gathered this collection of sensational sex toys and accessories that look nothing like you (or anyone else) would expect them to.
Let's just say, if discretion is the better part of valour, then these sex toys are your erotic Knights of the Round Table.
---
Secret Treats
Discreet in design but powerful in pleasure, these items look so innocent that not even your mother would guess at their true function. Or, if she does, she won't let on…
---
See all: Vibrators
---
Covert Toys for Boys
Sure, the blow-up doll from Fresher's Week might take pride of place in your kitchen, but no one needs to know about the real-deal gratification gadgets littering your desk.
See all: Male Sex Toys
---
Undercover Bondage and Accessories
BDSM playtime isn't all steel handcuffs and latex, you know. These ambiguous-looking accessories give very few hints as to their real purpose…
See all: Bondage
---
You may also like:

---