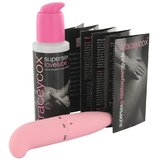 Put your party hat on and come join us in our appreciation of the orgasm and all its spine-tingling, lip-biting, toe-clenching, breathtaking wonder!
National Orgasm Day takes on a new relevance in 2008 due to a report in February in the Journal of Sexual Medicine by Prof Emmanuelle Jannini, who claimed that most women cannot achieve a vaginal orgasm because they lack a G-spot.
However, Lovehoney wants you to help prove that this is not the case! We believe that every woman has a G-spot, but the likelihood of you being able to achieve orgasm through it depends on your own sensitivity and response to stimulation.
Most women are unsure of how they can increase the sensitivity of the G-Spot and how they can stimulate it, but we have just the answer!