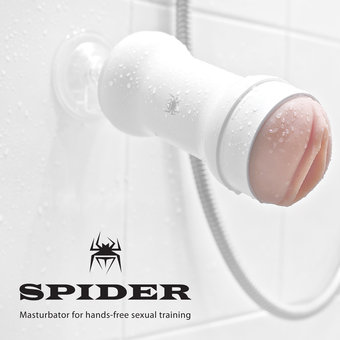 Spiders in the shower register highly on many people's phobia radar. Black, hairy, spindly-legged varmits with 6 eyes and funny feeder things beneath their GIANT FANGS OF DEATH. It's not a sexually happy image, is it?
Fortunately I'm not scared of spiders, so when Halloween rocks around you'll find me in the local toy shop stocking up on fake plastic spiders to place between shower bottles, next to plug holes and in random corners to scare the bejesus out of my friends. Nothing funnier than a fully-grown man legging it out of the bathroom because of a plastic spider.
If I start to feel guilty about doing this to my boyfriend (unlikely!), then I might be able to make amends by putting a different kind of Spider in the shower. There's nothing creepy, crawly or bitey about my Awesome Sex Toy of the Week.
The Spider Hands-Free Male Masturbator is much better than a big old bug in the bathroom…