Sex experts Em and Lo (more formally known as Emma Taylor and Lorelei Sharkey, full-name fans!) have been dispensing sexual wit and wisdom for more than 9 years.
They have book out which explains how to do (almost) everything rude, as well as a Channel 5 series of the same name airing this summer.
Sex: How To Do Everything is a beautifully produced guide to sex in the bedroom and beyond. We asked Em and Lo and few questions about it. And sex.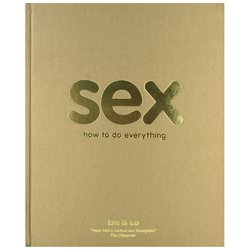 Sex: How To Do Everything - that's quite a title! Does the book really cover absolutely everything?
Okay, almost everything. But "Sex - How to Do Almost Everything" wasn't as catchy a title. We try to cover the basics and then some with new ways to think about sex, sexual moves and body parts that we think can really improve sex for everyone (well, almost everyone).
What makes the book different from other sex manuals?
Most illustrated sex manuals (ie with lots of instructional photographs) are really cheesy - the pictures often give you second-hand embarrassment.