I Played Like Ana Steele For A Week, And This Is What I Discovered
"'Do you want a regular vanilla relationship with no kinky fuckery at all?'" - Christian Grey
I've always considered myself to be adventurous when it comes to sex; I enjoy a bit of light bondage, the occasional spanking, but to be honest I'm always the one in control. One may even go as far as to say a control freak.
My New Year's Resolution for 2017 was to try new things, and to be less stubborn, so when the opportunity presented itself to do just that, and to spend a week sampling the Fifty Shades Darker collection from Lovehoney I couldn't hold myself back.
When I discussed this with my partners, Tom and Sara, they couldn't help but laugh a little at the thought of me being submissive, but were ultimately eager to experiment with me.
So, how was it playing like Christian and Anastasia for five days? Read on to find out…
---
Safety First
Firstly, my partners and I discussed everything first, from safe words to acts I would and wouldn't be okay doing through the week; given the nature of some aspects of BDSM (such as restraint and sensory deprivation), it's always important to discuss with partners beforehand what they are comfortable doing.
We decided to use two words throughout the week: one to indicate if something is getting a bit too much, or to please be more gentle, and another to mean "stop right now, if not sooner".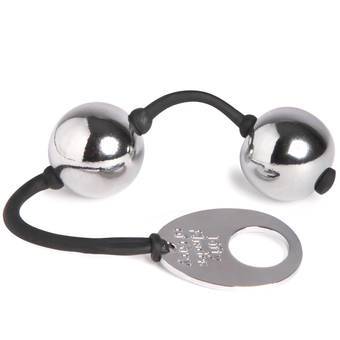 "I'm beginning to feel a dull, pleasurable ache deep in my belly, caused by the balls. Idly I wonder how long I will be able to manage without some, um . . . relief? I cross my legs . . . I bite my lip." - Ana Steele
Tom and I had been visiting Sara for the weekend, and for our last night before we left the two had planned a surprise for me. In the spirit of this week's adventure I was led into the bedroom, not told what I was in for.
"I think we should warm her up with these," Sara said, taking the Ben Wa balls out of their box as she smiled at me.
I didn't say a word as they undressed me but I was unable to keep the smile off my face as they took control. "Would you like that?" Tom asked, coating the two metal balls in a generous amount of lube. I nodded eagerly.
After the initial shock of the cold inside of me I was hit by increasing waves of pleasure as they slowly warmed inside of me. I could feel myself tightening around the balls, only making me more excited for what was to come throughout the week.
"I surrender myself to the rhythm of blows, absorbing each one, savouring each one … I moan loudly as my body takes over, and I come and come, convulsing around his fingers." - Ana Steele
Back at home, Tom and I were missing Sara, but wondering what fun the two of us could get up to. However, Tom had an idea.
Opening my copy of Fifty Shades Darker, he closed his eyes and flicked through the pages, finally choosing one and opening his eyes. That was it: our night was planned. His idea was to pick a scene at random from the book and re-enact it with me.
While the idea of this seemed a little cheesy and made me giggle at first I couldn't help the excitement growing inside me, wondering what the evening would hold.
So, after he'd tied my hands behind my back with Christian Grey's bow tie, he went with the spanking scene.
The paddle added a new force to spanking, a firmness that you can't always get from a hand alone, as well as the added surprise of whether they'll go easy on you with the silky, cushioned side of it, or show you no mercy with the smooth and supple faux leather side. It left a sharp sting which I would find hard to forget, and would cause me to remember the experience with a smile each time I sat down the next day.
"Holy cow, the feeling is exquisite, raw, painful, pleasurable… Oh - the pinch." - Ana Steele
Today, I was buckling down to work on my dissertation, but after two hours, I couldn't stop thinking about how intense last night was. So, after exchanging a few naughty messages with Sara, I was in the perfect mood for some solo play.
This was also the perfect opportunity to try the clitoral clamp. I had been quite apprehensive about it, never having used one before, and the smooth, cool metal seemed somehow intimidating to me, but after asking Sara to talk me through it, I was ready to give it a go.
After a few moments adjusting to the feeling of cold metal against such sensitive skin, I was hit by a more pleasurable sensation as the blood rushed to the area.
I slipped the bullet vibrator out of the cock ring I'd been sent, and pressed it to the clamp. The beads of the clamp lightly tickled my labia as vibration travelled down it, giving mind-blowing sensations - I'm so glad I took a chance on using it!
"'The sensation is very intense, but it's when taking them off that they are at their most painful and pleasurable.'" I remove the clip. Hmm, that might be nice. I squirm at the thought." - Ana Steele
Another night of mystery for me, with Tom free to do whatever he liked, and tonight, he chose to use the Velcro cuffs, padded blindfold, and nipple suckers from the Kinky Fuckery Wild Couples Kit - plus an extra erotic surprise.
The cuffs felt smooth against my wrists and held me fast to the bars of the bed; while beautifully designed, I was apprehensive about how strong they would be. However, they quickly proved their durability as I squirmed with pleasure at Tom's touch, unable to reciprocate.
Everything then went dark as he placed the blindfold over my eyes, the soft satin staying comfortably in place. The coverage was near perfect, only allowing for the faintest glow from the bedside lamp to sneak in.
I felt the familiar cold sensation of lubricant being spread over my nipples replaced quickly by the contrasting warmth of his tongue, sending an excited shiver through me.
As they grew more sensitive, he placed a sucker on each of them, the smooth edges forming a perfect seal with no sharpness. I could feel a light tingling as the blood flow increased.
As I squirmed, beneath him he quickly removed the suckers, much to my disappointment, only to replace them with something more intense.
I felt a sharp squeeze on each nipple, and realised he'd replaced the suckers with the chained nipple clamps. The silicone tips took away some of the pain, but still created a sense of exquisite pressure.
Tom tugged gently on the connecting chain, causing me to squirm once again; giving him this level of control over such a delicate part of my body gave me a strange thrill, and let me know that he was ultimately in charge tonight.
Friday: Fifty Shades Darker Beyond Erotic Butt Plug
"It feels alien, full, forbidden … but oh … so … good … As my body explodes, I'm nothing but sensation—everywhere." - Ana Steele
Tonight, I knew that we'd be using the Beyond Erotic butt plug. This was it, the build-up had filled me with both excitement and nervous anticipation. The sheer size and weight of this plug was bigger than any I had tried before, but the sheer curiosity made me even more eager to try it.
If you aren't used to or are new to anal toys, then it's wise to use something smaller as a warm-up, as well as plenty of anal lubricant. We found the soft, silicone anal beads from the Kinky Fuckery set were perfect.
Then, it was time for the plug itself. As I've only used small silicone anal toys in the past, the sense of something cold, hard and heavy was worlds away from my norm, but a welcome deviation.
I felt fuller and tighter than ever before, the cold metal giving me a shiver up my spine with each movement we made. The flared base helped to keep it in place, and Tom felt bigger in me than ever before.
---
So - What Was It Like?
""Kinky fuckery?" I squeak … My inner goddess is down on bended knee with her hands clasped in supplication begging me. "I like your kinky fuckery," I whisper." - Ana Steele
This week has really opened my eyes to my own sex life and desires. It was a challenge to my comfort zone and I found that I enjoy more than I thought I did.
Such beautiful toys certainly help and put you in the mood, and a week of sexual surprises was enough to blow away my winter blues. While my week as a submissive was at an end, it's not one that I'll soon forget and has taught me that you really can play like Ana and Christian every day of the week.
Lizi is a Sociology student at Northumbria University, often found blogging about as Some Angry Northern B*tch. When she's not balancing her affection between her two partners, it often goes to her pet hedgehog, Stormageddon.
---

You may also like: