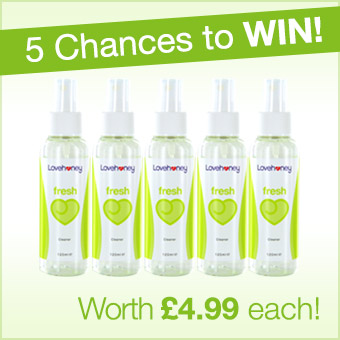 Happy New Year, one and all!
If you're like the majority of us, you'll have started off the year with the best of intentions - to get fitter, lose some weight or learn a new skill. However, it's the sad truth that many of these promises fall by the wayside come February.
But your sex life is one thing you shouldn't ignore this year. There's no reason why 2014 be the year you have the best sex of your life!
Why not get your year off to a good start by cleaning up your toy box?
We're giving away 5 bottles of Lovehoney Fresh Sex Toy Cleaner (worth £4.99 each) this week to our lovely winners. To be in with a chance to win, just add your comment below before 5pm on Friday the 10th of January.
Read on below for more tips and tricks for starting the year off with a bang.