You may have seen my last blog post in which I wrote about My Boudoir Photography Experience. If it's made you start thinking about doing a Boudoir photo shoot for yourself, there are lots of things to think about before you step in front of the camera.
Whether you choose to pose at home or go about it professionally, here are some of my top tips for having some sexy pictures taken.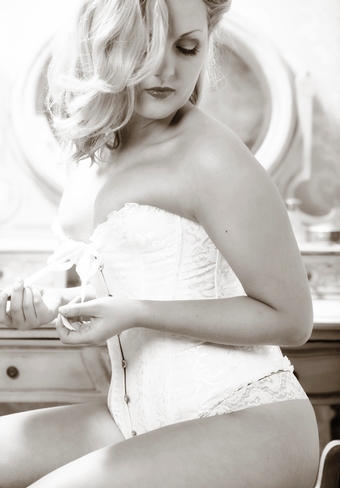 What look do you want to achieve? First things first. Do you see yourself as a vintage glamour queen, a rock chick or a soft and fluffy kitten? Although you'll be able to change your look in terms of your outfit and props, your hair and makeup will remain the same so think about the kind of vibe you want to give off. Dark, heavy makeup and big hair is great for a sultry or kinky look, whilst red lips combined with otherwise barely-there make up oozes old-time glamour.
Choose a range of different looks. It's really important to choose the right lingerie to take with you. As well as thinking about how sexy your body will look, it's also important to be comfortable, as you might be wearing your items for a while as you try to capture the perfect photograph. You can always take more items than you need and leave some out. I took about ten different bra sets and three corsets with me but actually only wore four for my shoot. My photographer helped me choose which outfits would look best for each scenario.
Think about items which create shape. Professional lighting helps create wonderful shapes, but clothes and posture makes a huge difference as well. If you want to create curves, try reducing your waist with a corset or waspie. Wearing ruffles can add volume to bottoms and busts whilst giving a flirty and feminine look. Basques allow you to take gorgeous timeless photographs without constriction, and they also create a wonderful silhouette. Never underestimate the phenominal effect of a pair of high heels on your body shape and confidence levels!