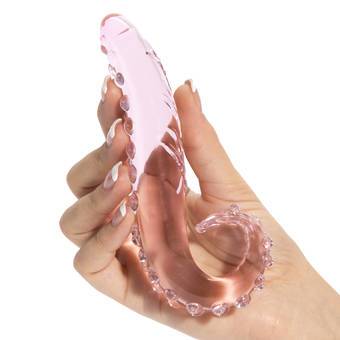 Lovehoney Community member Shadow Collector is one very lucky lady. Not only did she receive a Secret Wishlist Present from an anonymous forum friend, but we've also chosen the review she wrote of it as our Review of the Month. The prize? £100 to spend at Lovehoney!
We loved her in-depth review of the Icicles No 24 Tentacle Glass Dildo. She even pointed out features we hadn't noticed, like the perineum stimulation offered by the textured nubs:
"The raised glass nodules provide the kind of feelings that, previous to this toy, I only have imagined existed. There is nothing that can compare to the cool, firm feel of glass. Furthermore, the handle's shaped so that with every thrust it'll also tickle the anus."
"To the amazing person who blessed me with the Icicles No. 24, thank you. You've changed my outlook on sex toys for the better, and it was already pretty darn positive. I love this piece and any texture aficionados will love it as well."
Read Shadow Collector's full review here.
Read on below to see who we picked as runners up…