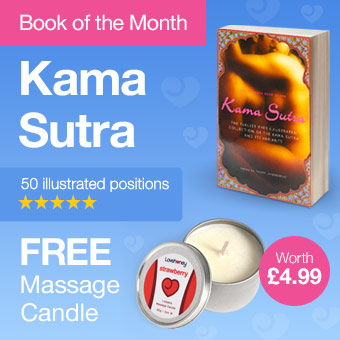 Think you can't learn any more about sex? Think again!
Our book of the month for May is a collection of the renowned Kama Sutra positions along with their modern variations, special artwork and erotic stories.
Considered the lovemaking manual for the 21st century, The Mammoth Book of the Kama Sutra by Maxim Jakubowski talks you through all the original Kama Sutra moves, along with over 50 more for you and your lover to enjoy together.
When you pick up The Mammoth Book of the Kama Sutra from Lovehoney during May, you'll also receive a free massage candle. Candles are perfect for setting a romantic atmosphere, and the special wax in this strawberry scented massage candle melts to a skin-safe massage oil to take your foreplay to new heights.
Buy The Mammoth Book of the Kama Sutra today to begin exploring a new world of lovemaking possibilities AND claim your free strawberry massage candle (worth £4.99!)