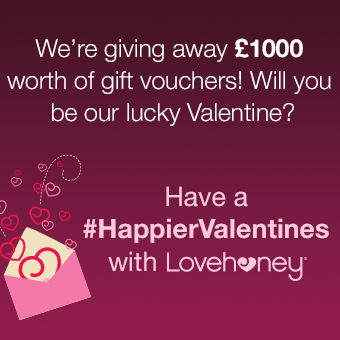 As you might be able to tell, we're pretty excited for Valentine's Day.
In just over two weeks, couples across the land will spend the day (or weekend) fussing over each other and, most probably, getting down and dirty. What's not to love?*
Taking inspiration from Willy Wonka, we'll be popping love letters, which also happen to be gift vouchers, in customer orders at random from now until Valentine's Day.
There's £1000 worth of gift vouchers to be won and they can even be given as a Valentine's present. We promise not to tell anyone you got it for free.
If you're lucky enough to find a voucher in your next order, you can Tweet us with the hashtag #HappierValentines.
It would be great to see where they've all gone (plus, it would be a relief to know they haven't all ended up in the bin by accident).
Good luck on your next Lovehoney purchase!