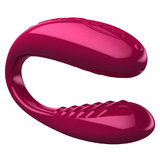 It's no coincidence that a sense of humour is often the most sought-after quality in a partner. Sharing fun and laughter is integral to having a happier relationship - and there's no reason why this can't be extended into the bedroom!
This Valentine's Day, it's time to think outside the heart-shaped box and go for a gift that will encourage you both to have a fun and sexy time together.
Whether you've been together for years or are just getting to know one another, each of these suggestions is a little bit different and intended to bring you together through experimentation and play.
Read on to find out the most popular gifts for couples and see what real couples have to say about how they worked for them. With 100% Free Delivery on all products