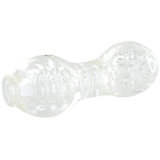 Before joining Lovehoney I had never man-handled a fake pussy and ass or any other exclusively male sex toys before. I've owned vibrators for over a decade but it had never occurred to me that during the whole of my adult life I had never been with a man who had owned or even used a self-pleasuring device on himself. I can barely name a female friend who hasn't.
When researching the joys of couple's toy play it seems to be the general assumption that women will bring the hardware and men are on the learning end of the bargain.
Advice and sex tips geared toward introducing toys to your relationship have a tendency to mirror this assumption with scores of sex experts opting for the female-friendly suggestion of bringing along some lube and one of your favourite vibrators. There's nothing wrong with that advice per se, but where's the balance? It seems that all camps are failing to champion the benefits of sex toys for men for both solo and couple's play… until now.