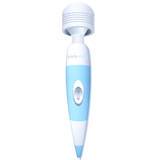 Vibrators are everywhere and thankfully they've come a long way from the straight-shafted, noisy sex toys of yesteryear. Now, they've been tailored to hit all of your pleasure points at once, stimulate your clitoris in ways you've never imagined and give you deep G-spot-hitting penetration.
But with so many different shapes, sizes and speeds available it's become pretty difficult to find which are the best vibrators on the market. Fear not, here at Lovehoney we've picked out our top 10 vibrators - all of which promise delectably different sensations and new realms of pleasure.
See more Vibrators Guides.