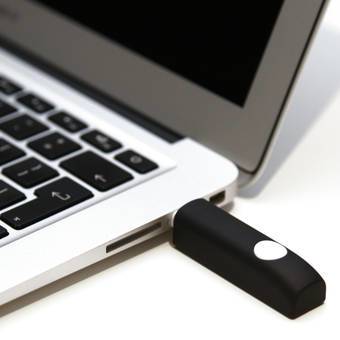 The future of sex toys is here, and it's charging in a Starbucks near you!
Introducing the brand new Lovehoney Flash USB Rechargeable Mini Vibrator £29.99. Sleek, petite and discreet, this powerful mini vibrator is whisper-quiet and looks uncannily like a memory stick, making it arguably the most discreet pleasure product on the market.
Unlike many other USB chargeable vibrators, the intimate stimulating tip of the Flash is removed during charging and can be kept somewhere clean and safe whilst the motor is charged via a computer or USB mains charger in a much less 'obvious' charging method.
Take a look at a Flash we plugged into a Lovehoney Mac earlier today (pictured, left). Now imagine it's plugged into a commuter's laptop as they take the crowded morning train to work, or as they complete a report in a busy cafe. Would you have any idea that this tiny black rectangle holds within its powerful motor three hours' worth of intense orgasm potential?
Neither would we!