Lovehoney Compare Luxury Bullet Vibrators: Lelo Mia 2.0 vs We-Vibe Tango & Salsa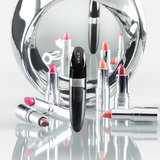 If you're looking for a luxury rechargeable bullet vibrator, you've probably already heard about the Lelo Mia which has been met with worldwide acclaim. But with two new luxury bullet vibrators from the innovators of the revolutionary We-Vibe couple's toy, the We-Vibe Tango and We-Vibe Salsa, the competition for best clitoral bullet vibrator is hotting up.
There's practically nothing between the three luxury bullets in terms of their size, how quiet they are (all near-silent) and charge time to play time ratio - so how do you choose which bullet vibrator is for you?
Let's compare bullet vibrators and find which is the best bullet vibrator in the luxury category.
| | | | |
| --- | --- | --- | --- |
| Price | [[productprice:productid=20778]] | [[productprice:productid=20779]] | [[productprice:productid=14703]] |
| Shape | Angled tip | Rounded tip | Rounded and angled tip |
| Length | 3.75 inches | 3.5 inches | 4.5 inches |
| Insertable | 1.5 inches | 1.5 inches | 1.75 inches |
| Circumference | 2.75 inches | 2.75 inches | 2.75 inches |
| Material | ABS plastic | ABS plastic | ABS plastic / silicone |
| Speeds | 4 | 4 | 10+ |
| Patterns | 4 | 4 | 3 |
| Rechargeable | Yes, mains | Yes, mains | Yes, USB |
| Charge time | 90 minutes | 90 minutes | 60 minutes |
| Play time | 2 hours | 2 hours | 90 minutes |
| Waterproof | Yes | Yes | No |
| Travel lock | No | No | Yes |
Lelo Mia vs We-Vibe Bullets
The Lelo Mia is a fantastically affordable way to try luxury sex toys - and with a 4.5 star customer rating on Lovehoney it certainly hits the spot. You can experiment with two different shapes (rounded tip and angled tip) while experiencing a variety of pulsations at almost innumerable speeds. The USB rechargeable technology is a great feature, while the travel lock gives extra peace of mind. Lelo's packaging also has the edge in the world of luxury sex toys, making the Lelo Mia a really beautiful gift idea.
The We-Vibe Tango and We-Vibe Salsa are slightly more expensive, but the magnetic charging technology that allows the bullet to be waterproof as well as rechargeable justifies this higher price point. You can take the We-Vibe bullets into the bathroom safely and the standard recharger means you can charge without having a computer to hand. Built for intensity, the We-Vibe bullets will outshine all your other clitoral vibrators and ensure you don't need to by something else for when you need raw power.
What are the speeds and patterns like?
The We-Vibe bullets each have 4 speeds to cycle through, and then 4 pulsations to experiment with. The Lelo Mia has 3 different pulsations (and 1 steady vibration mode) that can be experienced at a huge range of speeds from a gentle rumble to an intense vibration. If variety is your bag, go for the Lelo Mia. If sheer power is what you need then the We-Vibe bullets will win every time.
Which is the most powerful?
Even though the Lelo Mia has recently had a motor upgrade, we think the new We-Vibe bullets pips it in the power stakes. If you prefer a variety of speeds with more subtle increments, go for the Lelo Mia. If you're an out-and-out power queen, go for the We-Vibe bullets.
Are they all waterproof?
The great advantage of the We-Vibe bullets is that their seamless magnetic charging contacts means they are both totally, 100% waterproof. You can take them in the bath, shower or Jacuzzi and cleaning is a breeze. The Lelo Mia is not waterproof, due to the USB charger, but can be cleaned with a simple wipe over with a sex toy cleaner.
Which is best to travel with?
Small and discreet, the We-Vibe bullets are pocket-sized but with separately charging docks, plugs and adaptors you'll end up taking quite a bit of kit away with you. The integral USB charger of the Lelo Mia means as long as you have access to a computer, you can charge your toy so you don't have to take an extra plug adaptor away with you. Lelo Mia features a travel lock, which the We-Vibe bullets don't, so there's absolutely no chance of the Lelo Mia going off in your suitcase or hand luggage.
---
Featured in this guide: