How To Clean Your Male Sex Toys
Whether you've bought a brand spanking new Monkey Spanker or you've just invested in a sensation-packed Tenga Flip Hole Masturbator, keeping your new male sex toy feeling fresh and new is highly important.
However, each sex toy requires a different kind of maintenance and knowing which advice to follow can be tricky.
That's why we here at Lovehoney have collaborated all the best male sex toy care information and presented it for you here!
---
These are Lovehoney customer favourite sex toy care products:
How to clean Fleshlights
No matter what kind of Fleshlight you own, the care instructions are the same.
After use, remove the insert from the plastic casing and run hot water through the middle to remove any lubricant or bodily fluids. Don't use any cleaners or detergents as these will deteriorate the surface of your Fleshlight - hot water will ensure optimum hygiene on its own.
Next, towel or air dry the gel insert. Many people use a hairdryer to speed up the process but leaving it on a clean, dry shelf works just as well!
Afterwards, you will notice that the fleshlight feels slightly tacky or sticky but this is perfectly normal. Sprinkle a little Fleshlight Powder or even some cornstarch/corn flour on the insert and it will feel as silky smooth as the day you bought it.
To properly re-position the gel insert inside the plastic canister, reach through the small end of the canister and pull the insert down into place.
How to clean TENGA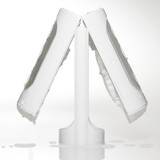 The TENGA Flip Hole Masturbator is easy to clean.
After use, slide the TENGA out of the plastic clip and open it up. Rinse the internal sleeve under a running tap, using your hands to stroke over the ribs and nodules then either leave to drain on the stand or pat dry with a clean towel.
The TENGA Onacups and Eggs are designed to be used only once, but you can prolong their usable life by wearing a condom each time you use them.
How to clean Male Masturbators
Whether it's a discreet masturbator, a pocket pussy or a hand-sized stroker, if you clean it right it will give you years of pleasure.
Firstly, make sure that you remove any vibrating parts or ensure that water won't be getting near them.
Secondly, run your male masturbator under a hot tap, making sure to get into any lumps, bumps or ridges.
Thirdly, use a clean dry cloth to pat it dry externally and as far as you can reach internally. Leave in a well ventilated area the natural flow of air will finish drying it.
How to clean Realistic Vaginas
To keep that life-like feel of your realistic vagina male sex toy there are a few steps you need to follow:
1. Wipe the exterior with a wet cloth.
2. Rinse the interior out with a little warm running water.
3. Turn the product upside down to let the water drain.
4. Pat dry with a clean towel or tissue.
5. Dust lightly with renewal powder to get rid of any tackiness.
How to clean Sex Dolls
To care for your sensual sex doll, we advise taking her out for dinner, buying her a piece of Tiffany jewellery and keeping her away from naked flames.
Alternatively, rinse all orifices out with warm water several times, spray with Lovehoney Fresh Sex Toy Cleaner then pat dry using a clean cloth or towel.
How to clean Cock Rings
Cock rings probably the easiest male sex toy to clean.
All they require is a wipe down with a wet cloth and they're ready to go again! If you're being really careful however, spray it with a little Lovehoney Fresh Sex Toy Cleaner, wipe it down and leave it to dry in a dust-free place.
How to clean Prostate Massagers
As prostate massagers are used internally, it's important that they're kept ultra clean to avoid any discomfort or infections. We recommend the 'rinse and repeat' method of cleaning your prostate massager.
After use, run your prostate massager under a hot tap, using a damp cloth or tissue to get into any ridges or bumps. Repeat this several times until you have covered every surface. Then spray your prostate massager with Lovehoney Fresh Toy Cleaner, rubbing it thoroughly. Rinse one final time and pat it dry with a clean towel.
By following the simple guidelines laid out above you are guaranteed long-lasting, body-safe pleasure for as long as you have your male sex toy.
---
Still need help?
You can Contact Customer Care, who will be able to give you advice on how to clean your toy properly. You can send an email any time, and telephone or live chat to an experienced advisor from 8am-10pm Monday-Friday and 8am-4pm Saturday.
The other great place to look for people's advice on sex toys is on the Lovehoney Forum, where our community is on hand 24/7 to give their opinions and tips.
---
You may also like:
How To Clean A Pockey Pussy
How To Clean Masturbator
How To Clean A Stroker
How To Clean a Male Sex Toy
Cleaning Pocket Pussy