Guys, This Is Why You Need A Magic Wand In Your Life
---
1. Use it for massage
There's nothing quite like a massage. After a tiring day at work, or a hard session at the gym, wouldn't it be lovely to come home to an intense deep-tissue massage? Well, you can.
With powerful wands like the Classic Magic Wand Vibrator you can hold them against your back, shoulder blades and other sore areas and let their strong vibrations soothe your sensitive, tired parts.
Using a wand over your clothes is great, but it's also good with a slick of massage oil on bare skin, just like your imaginary masseuse would. Just remember that silicone heads and oil don't mix.
---
2. A frenulum friend
If you've got a penis, you'll probably know by now that your frenulum is your friend. That super sensitive, elastic band of tissue under the glans is full of nerve endings that are waiting to be touched, stroked, licked and, you guess it, massaged with vibrations.
It's possible for some men to achieve orgasm by stimulating this area only. Using a wand, maybe something smaller to start with like the Mantric wand (pictured), hold it against the frenulum before beginning the vibrations. Keep it still and increase speeds, or make small circular massage motions.
Use a little lube to make the sensations the smoothest possible.
---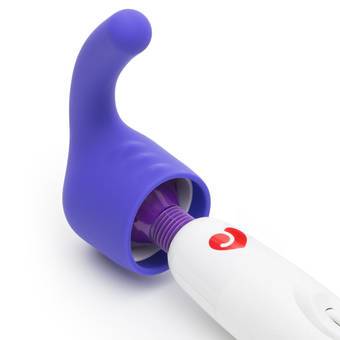 3. Accessorize
I'd say an extra attachment is to a wand what a pocket square is to a suit, but I doubt either of those have ever given a sheet-grabbing, lip-biting, toe-clenching orgasm. Could be wrong though, we've all got our kinks. The point being, a wand attachment can completely transform your experience and deliver a whole new style of pleasure and stimulation.
Best results come when using a little water-based lube to slide into the sleeve.
Another option is an attachment specifically designed for stimulating your prostate. Something like the Wand Essentials attachments or the Deluxe G-spot one, which works for both sexes, is perfect for transmitting those powerful vibes straight to your sweetest spots.
---
4. Sharing is caring
Wands, despite their size, are great toys for use during sex, whether that's a vagina and penis, penis and penis, or vagina and vagina. They can be positioned between both partners to achieve mutual stimulation. Different positions work best depending on the type of couple you are.
Also investing in something like the Liberator BonBon Toy Mount can facilitate using your wand in an array of wonderful positions, allowing both partners to benefit.
---
5. Bridge that gap
Studies have shown that there is a glaring disparity between the number of women who orgasm during sex, versus the number of men. For a large percentage of women, sex without clitoral stimulation won't lead to an orgasm. And many women find that they can come a lot more easily with the help of a vibrator.
They might not have one in their bag at all times (in case of impromptu encounters), or at the beginning of a relationship, but it may be something that gets incorporated into play later on. Having a vibrator with multiple uses like a wand can be a great way of bridging that orgasm gap straight from the get-go.
Also, showing that you don't feel intimidated by sex toys can be very relaxing for your partner, who otherwise might agonise for a while over whether or not her favourite rabbit vibe can hop into the bed with you both.
---
---
You may also like: