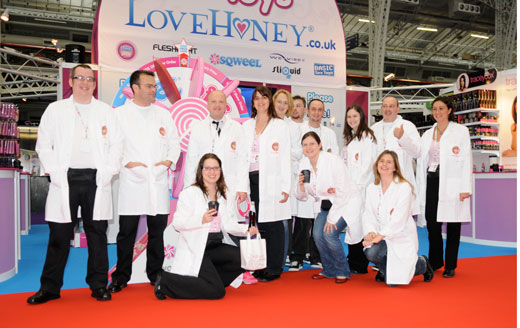 Lovehoney had a great time at the Erotica 2009 exhibition this weekend, wowing the crowds with our unique-in-all-the-world Sqweel of Fortune, Dildo Hoopla, Rabbit Wall, X-rated Photo Booth and Fleshlight Wall.
And, of course, our fantastic products including the Sqweel, the UK launch of the new We-Vibe II, our massively popular Tracey Cox Supersex Range, Sliquid Lubes and Durex Play and a whole lot more.
A massive thank you to everyone who came to the Lovehoney stand to play our silly games, buy our toys or just to say hello. It was great to meet you!
Erotica is the biggest sex show in the UK and is a great place to go if you've never bought a sex toy before. You can get your hands on lots of different products and, of course, on the Lovehoney stand our friendly, knowledgeable staff are there to help explain what they're all for.
That's us up there in the picture - from left to right: Jeremy, Richard (me), Kirstyne (kneeling), The Prof, Paula, Jo, Andy, Carl, Bonny (crouching), Carly, Joy (kneeling), Sean (gurning) and Flavie (wondering what the hell she's let us in for). And not pictured are Shelley, Ruth, Wojtek, Mike, Dusan and last but by no means least, Joseph (who left his Amazing Technicoloured Dreamcoat at home).
And also big big "THANKS!" to Dean from Sliquid, Tracey from Tracey Cox (both pictured centre left), Bruce from We-Vibe, and Sqweel inventor Trevor Murphy and his mate Shane for being there for us.
Thank you to all the Lovehoney staff who made it happen - you did us proud!
More Erotica happenings and pictures after the break…