A Spider You Want to Find in Your Shower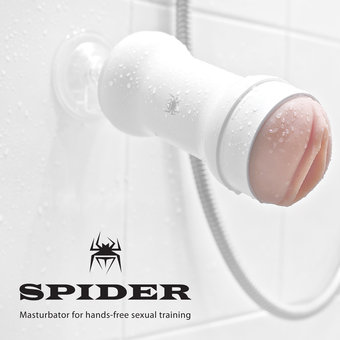 Spiders in the shower register highly on many people's phobia radar. Black, hairy, spindly-legged varmits with 6 eyes and funny feeder things beneath their GIANT FANGS OF DEATH. It's not a sexually happy image, is it?
Fortunately I'm not scared of spiders, so when Halloween rocks around you'll find me in the local toy shop stocking up on fake plastic spiders to place between shower bottles, next to plug holes and in random corners to scare the bejesus out of my friends. Nothing funnier than a fully-grown man legging it out of the bathroom because of a plastic spider.
If I start to feel guilty about doing this to my boyfriend (unlikely!), then I might be able to make amends by putting a different kind of Spider in the shower. There's nothing creepy, crawly or bitey about my Awesome Sex Toy of the Week.
The Spider Hands-Free Male Masturbator is much better than a big old bug in the bathroom…
The Spider Male Masturbator bridges the gap between strokers and sex dolls by offering a hands-free platform for masturbation that is lightweight, discreet and small enough to pop in your bedside cabinet.
From the outside it looks like a modern dumbbell with a little tell-tale Spider logo. The pronounced ends are in fact caps that reveal a vacuum-lock sucker at one end and a realistic vagina at the other.
The sucker has a 120-degree pivot that allows Spider to be affixed at a variety of angles and thanks to the locking mechanism, once you find the perfect angle it won't shift. Affixing Spider to any smooth, hard surface creates an instant platform for sexual simulation that can help you to improve your stamina and techniques while you enjoy the pleasures of a realistic fleshy sleeve.
A Spider you'll love finding in the shower? Awesome!