"Proper Dungeon-Worthy Equipment" - Review of the Month, January 2014
Each month we give the author of our favourite sex toy review £100 to spend at Lovehoney. We've rummaged through all of your feedback from January and are happy to announce the winner.
Review of the Month
Sum Sub's review of the DOMINIX Deluxe Metal Connector Chain 28 Inch ([[productprice:productid=29735]]) really caught our eye. His breakdown of how important a classic chain is for enhancing and advancing your S&M play was fantastic. Plus he included inventive ideas for getting the most from this simple yet necessary product.
"What benefit can this possibly bring to my bondage sessions? Well let me tell you right here right now, you need this."

"The build quality on this is top notch, I feel like I have really put it to test and it has withstood everything I have asked of it. I think this will last years, and years and years. It is proper dungeon-worthy equipment."
Read the rest of Sum Sub's review here.
Every month we read your reviews and select our favourites to feature in the blog. If we decide you've written our 'Review of the Month' we'll give you £100 to spend on anything you like at Lovehoney! And the prizes don't stop there, you could win a bunch of loyalty Oh! Points if you're picked as a runner up.
Think you could write a winning review? Read our guide to getting started.
Continue reading to discover if you were picked as one of our lucky runners up…
---
According to musical trivia three is a magic number, and after reading the amazing reviews we've received throughout January, we have to agree! We've picked out three lucky reviewers as runners up who have earned themselves 2,000 Oh! Points to spend at Lovehoney!
To be in with the chance of being one of our winners next month, submit your review now.
Runners Up
DavidB1986's review of the Lovehoney Beaded Magic Wand Attachment
"If the Deluxe Magic Wand was a full fat knicker-bocker-glory, then this would be the sweet cherry on top. Oh my goodness… my knees began to tremble, my entire body began to tingle and within moments, I was having an orgasm. The combined feeling of the internal vibration from the beads to the wand head vibration against the perineum… well I was in a state of absolute bliss. The only thing I could say to myself as I lay there, shaking and feeling incredibly good was, "Why the HELL did I not use this sooner?!"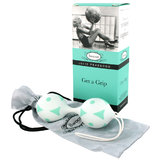 peacelilygirl's review of the Swoon Get a Grip Silicone Jiggle Balls
"I was paranoid about my tightness after surgery. This has helped enormously. I wear them a few hours at least on most days and I got fast results. My orgasms are stronger, my muscles contract tighter and my boyfriend even remarked on how incredible I feel now. An unexpected joy from these balls is their pleasure power. At first I couldn't feel much but now I feel their every movement. I highly recommend jogging up stairs with them in! Bending over feels great and I often wear them in public."
taraman's review of the Bettie Page Sweet On Satin Restraints Set.
"The Bettie Page range is not cheap but is targeted at the luxury end of the market. This is immediately evident from the packaging and then the product itself. The stitching is perfect and absolutely uniform and the subtly padded restraints and silky smooth satin ribbons are a joy to hold and wear. I think the price absolutely matches the product and would recommend this for people who want to build a luxury collection of toys that will last a very long time."