How to Put Your Self-Care First: Three Ways to Reinvest in Your Wellbeing
Our heightened interest in self-care could have been prompted by loads of reasons in 2020, but maybe it's a blessing in disguise.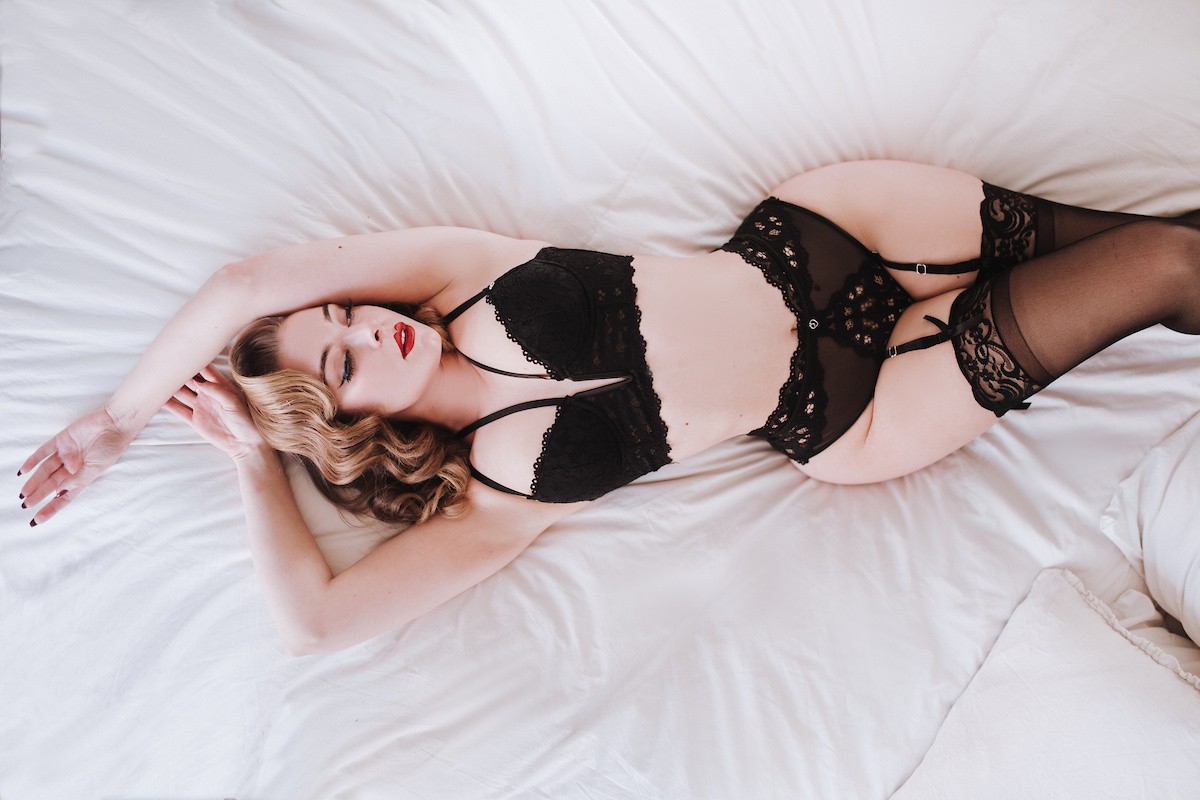 While our spending habits fluctuate mildly over time, our bank accounts saw quite a shift from 2019 to 2020. Many of the things we liked to splash our cash on suddenly weren't available anymore and we directed our money elsewhere as a result.
Through it all, many of us turned the spotlight on ourselves and intrigue around self-care rocketed. This was proven by our internet searches, which saw queries such as 'why is self-care important?' and 'what is wellbeing?' increasing by 129% and 89% respectively, on average monthly searches, year on year.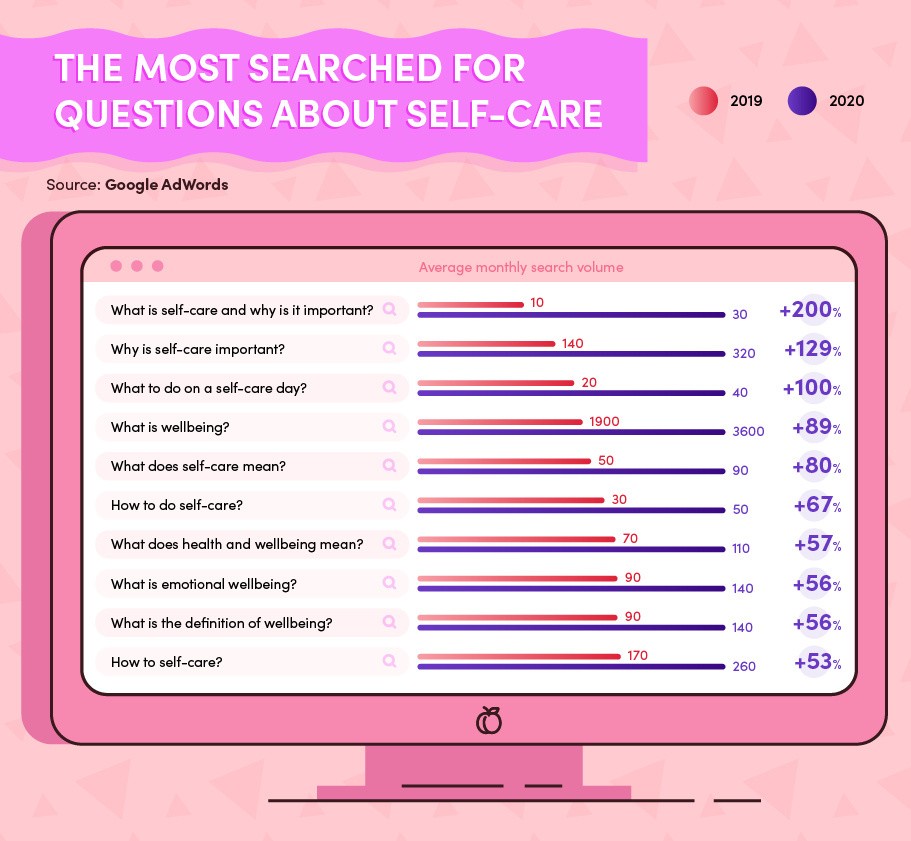 As normality continues to edge closer every day, this newfound interest in our health, happiness and comfort will no doubt continue long into the future.
This article will go through how to harness the money you've saved in 2020 with a changing mentality towards your wellbeing and the power of reinvesting in yourself.
How has our spending changed?
With businesses closing temporarily and uncertainty around, 2020 saw our lives turn upside down, affecting our fiscal focus.
The shutdown of hospitality resulted in our spending on restaurants and hotels dropping by 43% between 2019 and 2020. With most of us cooking three meals a day at home, we not only grew a taste for takeaways but spent more on food and drink, which saw an overall increase of 8% from 2019 to 2020.
Without anywhere to show off new outfits and with clothing shops closed, our spending on fashion and footwear decreased by 15%. Due to theatres, museums and galleries being shut, we spent 14% less money on culture. Finally, with no money going on petrol, train tickets or holidays, we spent 34% less on transport, too.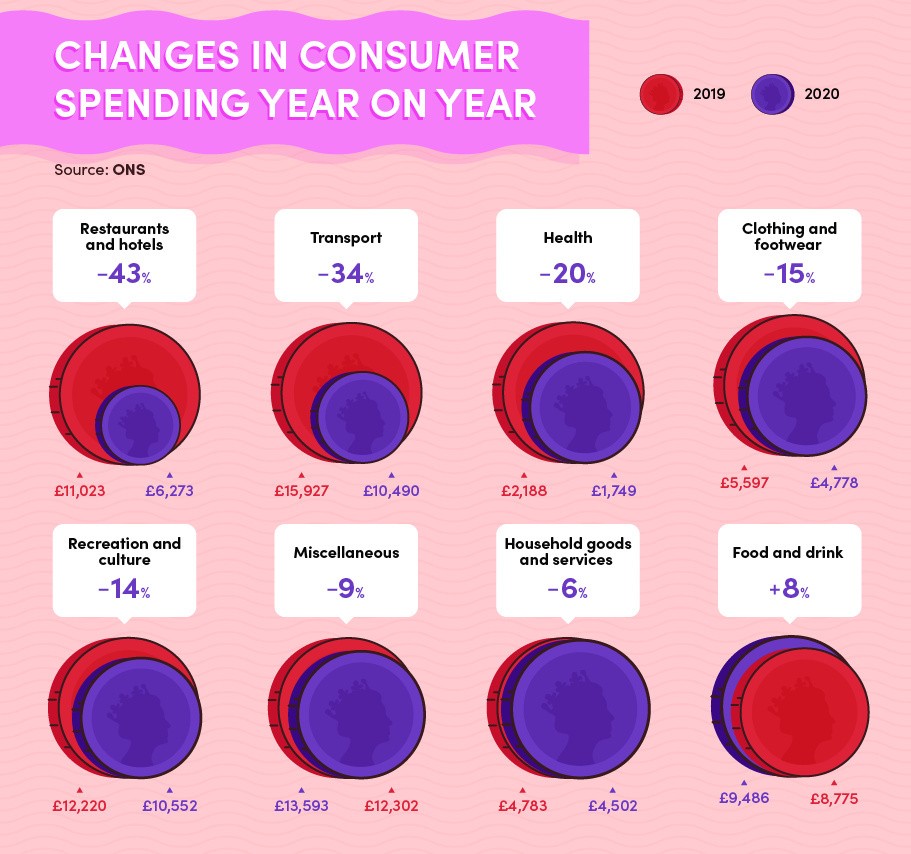 All of these savings left us with a bit of extra cash, which - when combined with our curiosity for self-care - could be spent on items that will help us continue to improve our understanding of ourselves and our wellbeing.
Reinvest in yourself
If you're looking to keep your welfare front and centre from now on, we've come up with some ways in which people can plough the money they may have saved in 2020 back into their wellbeing.
Boost your mental wellbeing from money saved on health
With dentists and doctors closed throughout most of 2020 and beyond, we saved money on pharmaceuticals and personal products. And as many of us were staying indoors much more, our habits changed - from exercise to working, socialising to eating. These shifts in our normal routine were felt by many in the form of mental health, which placed greater importance on the need to understand and look after our mental wellbeing going forward. Our expert, Annabelle Knight, shares what we might be feeling coming out of lockdown and how you can invest your money to boost your mental wellbeing.
"The last year of lockdowns has meant that remembering what 'normal' was like is difficult. Because of this it's only natural that some people will be experiencing feelings of anxiety and apprehension with the idea of lockdown being over. Taking care of your mental health is the best way to ensure that, when normality sets in, you're ready for the change.
"Investing in a diary or journal can completely rejuvenate your mental health. Recording your thoughts and feelings can help you to process events, whether they be big, or small, and you may find yourself being more present in the moment."
Book a holiday and some me-time
The average Brit budgets over £1600 for a holiday. That's a whole lot of extra cash floating in your bank balance.
While all of us can't wait for holidays to resume and to book trips away again, why not leave some of the vacation kitty aside to spend on yourself. That way, if you fancy an indulgent night, you'll have it factored into your budget and can buy some self-care goodies that will last. For instance, you could pamper yourself with some bougie bath products from Lovehoney's virtual shelves, like a bath bomb and bath gel.
Balance your cultural fix with self-care
The past year has probably shown a lot of us just how much money we enjoy spending on stuff like fancy dinners and theatre tickets. The average cost of a theatre ticket is over £50, so if you've noticed your pockets bulging, that's probably why!
If you want to keep the saving spree going, you could still support your favourite restaurants and venues but aim to go out for a meal or to an event just once a week. This tip ensures you're still getting your social and cultural fix, while saving money and making the time to take care of yourself.
One of the best ways to relax and unwind on the nights you're not living the high life is masturbation. Lauded for its stress busting and mood-lifting abilities, you may even find yourself making excuses in favour of nights filled with self-love, especially when an anal vibrator or vibrating strap-on is involved.
From lockdown and beyond
Our heightened interest in self-care could have been prompted by loads of reasons in 2020, but maybe it's a blessing in disguise? The way we look after ourselves has become increasingly important, so we should all continue to include self-love as part of our lifestyle into the future. To help us do this, Annabelle stresses the importance of building that all-important relationship with yourself:
"The most important relationship a person can have is the one with themselves. Finding ways to make sure you have a healthy mind ensures good mental health and means you're better equipped to deal with any issues or challenges you might face. It's also important that we understand that all aspects of our health are intrinsically linked, so you mustn't neglect one in favour of the other - take care of your body, emotions, and mind in equal measure."