7 Ways to Make Your Honeymoon Sizzle
Whether lounging on a white sand beach, snuggled up in a mountain retreat or creating a rural love nest together, your honeymoon will be packed with memorable moments and (hopefully) lots of exceptionally good sex. A lot of people find the best sex they've ever had was on holiday, as they're away from their usual surrounding and totally relaxed. This is magnified when you're getting the royal treatment as the bride or groom and that holiday just happens to be your honeymoon.
For most of us the honeymoon is no longer our sexual initiation, but that doesn't make consummating the marriage any less significant. Just after your wedding, when all those closest to you have gathered to celebrate your relationship, you'll be feeling closer, fully committed and totally euphoric. It's time to celebrate being newlyweds, thoroughly enjoy your new husband or wife and get lots of special attention.
A new bed (maybe a four poster in a castle or a tented bed in a hot climate) brings with it a new sexual energy and even if you've been stoking each other's fires for years, you can always try something fresh and exciting. Over-planning pleasure is a sure-fire way to spoil the moment, so have these suggestions at hand to put to use at the right time and ensure your honeymoon is the happiest and sexiest holiday of your life.
1. Indulge in a Luxury Sex Toy
You've probably just spent more than you ever thought possible on flowers and cake, so why not spend a little more than you would on a luxury sex toy and treat yourselves to a wedding present that will strengthen your marriage? If you find it hard to justify the bigger price tag, think of it as an investment in your pleasure. Made from superior materials, luxury sex toys really last and with most being rechargeable, you'll recoup the initial outlay of the course of the toy's life by not having to buy batteries.
A great luxury toy for couples is the We Vibe II ([[productprice:productid=14504]]) which can be worn while you have sex, so you can stay as close as possible during your honeymoon. With its dual motors, the We Vibe is the only vibrator that stimulates the clitoris and the G-spot while at the same time allowing penetration.
2. Make a Splash with Waterproof Toys
Chances are some slippery fun is going to come your way while you're on honeymoon, whether it's a clear sea, a hot tub on a balcony or a relaxing spa bath in your room. A shared bath can be made even more exciting with a waterproof vibrator, whether you decide to stimulate each other or massage away all your cares.
Something like the Tracey Cox Supersex Secretvibe Bullet ([[productprice:productid=18534]]) is small, discreet and easy to pack. It's totally waterproof, couple-friendly and really versatile so you can experiment under the bubbles.
3. Share a Sensual Connection with Massage Candles
Lavish attention on your new husband or wife and massage away any stresses that remain from the wedding. The appropriately named Monogamy Strawberries and Champagne Massage Candle
Made from soya wax that burns at a body-safe temperature, sweet-smelling massage candlesare the perfect way to set the scene for romance. They're also a fun new way to experiment with erotic massage together.


4. Experiment with a Little Light Bondage
If your marriage is more va-va-voom than vanilla, a little light bondage will be just the ticket for your honeymoon. The Tracey Cox Soft Bondage Kit ([[productprice:productid=16308]]) has all the bondage gear you need for a getaway, with a sash blindfold and four velcro cuffs. The Sportsheets Tie the Knot Bondage Kit ([[productprice:productid=2438]]) is similar, but in pure white.
Both sets are discreet enough not to raise eyebrows if a cleaner spies it while they're tidying up the room, but they're serious enough to give bondage fans a thrill.


5. Pack Pocket-Sized Bedroom Games
It's all supposed to be fun and sex games on the honeymoon, but sometimes you need a little inspiration. These Kama Sutra Playing Cards ([[productprice:productid=2777]]) will be the ace to have up your sleeve if you do end up twiddling your thumbs. Light and easy to pack, these cards will give you a great way to pass the time and give ideas for new positions.
Sex dice are also small enough to slip in a make up bag and give endless opportunities for fun. Be imaginative with how you use them! Why not take it in turns to roll them while you watch a film in your room for extra spice? How about taking the dice out and about with you as you go sight seeing? Roll the dice and find a private place to complete the action. Thinking up inventive ways to use them is part of the fun.
6. Introduce Another Love Ring
Good sex is key to a happy marriage, and using a love ring is the best way to boost your mutual satisfaction in the bedroom. Enjoy intense orgasms for two with the knee-trembling Tracey Cox Supersex Silicone Love Ring ([[productprice:productid=18919]]). With an added textured area for clitoral stimulation, just slide it down to the base of the penis and switch on the vibrations for exquisite, pulsating pleasure. The stretchy silicone cock ring provides support for him and helps to maintain a firmer erection - helpful if he's suffering from honeymoon fatigue!


7. Don't Forget the Lube!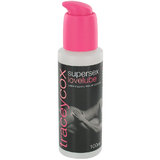 Lube should be a mainstay of every bedroom as it increases the sensuality and comfort of lovemaking for both partners. On honeymoon, you'll probably be having more sex than usual and a good lubricant will enhance every session. Practically speaking, using a quality lubricant will help ease any irritation that arises from increased sexual activity (cystitis isn't nicknamed the 'honeymoon disease' for nothing).
A recent studyshows that sexual pleasure and sexual satisfaction is significantly higher when lube is used during foreplay and sex - so make sure you don't forget this vital bit of kit. Tracey Cox Supersex Love Lube ([[productprice:productid=5329]]) comes in a handy 100ml bottle, or Durex Play Sensations ([[productprice:productid=5349]]) are a selection pack of lube sachets that are easy to add to your luggage. If you end up fancying some sex underwater, a silicone-based lube will replenish your natural lubrication and won't wash away easily.
Featured in this guide: