How to Use a G-Spot Vibrator
Wondering how to get the most from your G-spot vibrator, or curious about how you can stimulate your (or your partner's) G-spot?
Lovehoney is on hand to help you discover the joys of G-spot stimulation, and explain how and why this hidden erogenous zone can open up new pleasurable possibilities.
G-spot vibrators are easy to use, once you get the hang of them. They come in a range of different shapes and sizes but all are designed to stimulate the nub of sensitive nerve-endings that lie approximately 1-3 inches inside the front wall of the vagina.
Usually featuring a slightly curved tip, G-spot vibrators can be used whether you're on your own or with a partner – so there's something for everyone.
---
These are our customers' favourite G-spot vibrators:
Average Review:

817
---
Average Review:

542
---
Lovehoney Beaded Sensual Glass G-Spot Dildo
Average Review:

445
---
Mantric Rechargeable G-Spot Vibrator
Average Review:

178
---
---
Feel your way
Before using a vibrator, you might want to explore your body with your fingers to find exactly where your G-spot lies - that way you'll know what you're aiming for.
The location of this nub of nerve endings can vary from person to person, but as the G-spot should become more sensitive and protrude as you become aroused, there's more chance of finding it if you're turned on.
Play with your clitoris, and bring yourself to orgasm if you can. Then, slide your palm down your stomach, and insert a lube-covered finger or two into your vagina, curling them backwards in a 'come-hither' motion once they are a couple of inches deep inside you.
You should now be able to feel a fleshy, ridged area that feels different to the rest of the vagina.
---
---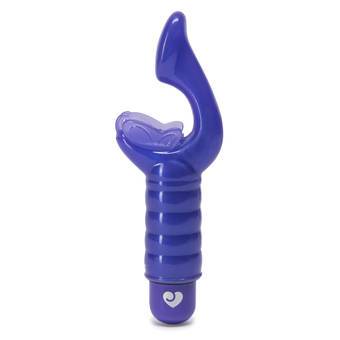 Start slowly
When using a G-spot vibrator it is best to start slowly, making sure you are aroused and well lubricated. Slather your dildo or vibe in water-based lube and slide it about 2 inches in, pressing the shaft head or angled tip against your vagina's front wall.
Your G-spot is surrounded with dense tissue and lies deep in your flesh, so you may want to use a little more pressure than usual or slide your toy from side to side until you hit the right place.
When you hit it, you'll know. The spot swells and firms up as it fills with blood (remind you of anything?), meaning the extra bloodflow makes the tight bundling of nerve-endings cry out for firm stimulation.
It's not the sort of play you'll want to leap into straight away, so indulge in some soft, sensuous solo play or foreplay first to give your body time to relax completely.
---
---
Which vibrator do I go for?
A good first-time toy is the BASICS Powerful Mini G-Spot Vibrator which has 7 speeds and a slim circumference so you can start off slowly with gentle vibrations and then turn up the power once you're used to the sensations.
Once you've had some experience with G-spot stimulation, you can move on to a vibrator with some texture, or more vibration speeds and patterns to give yourself an even more pleasurable experience.
With its sleek, curved silicone shaft and powerful vibrations, the Happy Rabbit Rechargeable Mini Rabbit Vibrator will have you bouncing with happiness!
Not only does it have a curved tip to stimulate the G-spot, it also has rabbit ears to stimulate your clitoris – that means dual sensations and potential blended orgasms.
---
Finding your G-spot with a partner
Wondering why you've never had a G-spot orgasm with your partner? It could be because of the position you're in. For example, it's tricky to stimulate the G-spot when you're in the missionary position.
Other positions, like doggie-style, her-on-top and Crossed Lovers, have a much better internal orgasm success rate.
When you give attention to your G-spot, it's possible to experience female ejaculation.
This is when a woman releases varying amounts of clear fluid from her urethra at the point of orgasm - anything from a small trickle to a full-on squirt. Either way, it's a sign that you're having a good time, so nothing to worry about!
---
Using a G-spot vibrator with a partner
To use a G-spot vibrator with your partner, you can either incorporate it into your foreplay or use it during sex.
The Lovehoney G-Slim G-Spot Vibrator is great for foreplay. Unlike the Jessica Rabbit, this slimline vibe does not have vibrating ears for external stimulation, so your partner can focus on your clitoris while the vibrator targets your G-spot.
Although it can be used during solo play, the We-Vibe Chorus Remote and App Control Rechargeable Couple's Vibrator gives intense pleasure to both your clitoris and your G-spot during penetrative sex, helping to enhance the experience and bring you to a satisfying climax.
This is great for those who love the intimacy of sex with their partner, but need some help achieving orgasm during penetration.
---
Check out our G-spot vlog
Above: Learn about G-spot orgasms with Jess Wild