Beginner's Guide to Sex Toys
The world of sex toys can be daunting, to say the least. Whether you're buying for someone special or treating yourself, it's hard to know where to start. This guide will give you a whistle stop tour to the sex toys section on Lovehoney to help you on your way.
Above: Whether you're looking to buy your first sex toy, or your hundredth, there are some things you just gotta know. Watch this video guide and let Jess Wilde show you the way.
If you're looking for your first ever sex toy, our How to Choose Your First Sex Toy guide will help you find the right first sex toy for you.
If you're curious about what exactly something is used for, check out the A- Z of Sex Toys that explains every single sex toy under the sun.
See more Sex Toy Guides
---
Bullet Vibrators
What are they?
Bullet vibes are small, discreet and sometimes very powerful mini vibrators. They're normally only a couple of inches in length and slim in width with easy-to-use controls. They can offer single speeds or a variety of buzzing sensations.
Why are they good?
Unintimidating and extremely versatile, they're great for pinpoint external stimulation and some can also provide shallow penetration. They tend to be a bit cheaper so are great for unsure first-timers.
Who are they for?
They can be enjoyed by men or women for clitorial or perineum stimulation and are small enough to be used by couples during sex. Read our bullet guide for more info.
We recommend:
Lovehoney Dream Bullet Vibrator. 10 functions and discreet, this mini vibrator is unintimidating whilst pack a big punch. See more Bullet Vibrators.
---
Vibrators
What are they?
Vibrators are, as you might have guessed, sex toys that vibrate. They come in a huge array of shapes and sizes to give you as much pleasure as non-humanly possible. From classic phallic shapes, to curved G-spot stimulators, rabbits and wands, they're designed to give clitoral, vaginal, g-spot or a mix of all types of stimulation.
Why are they good?
Most women find it easier to achieve orgasm through clitoral stimulation than any other kind, which is why the vibrator is one of the most popular sex toys. Many combine both clitoral and penetrative stimulation to give you the most mind-blowing of blended orgasms. They also tend to offer a wide range of speeds and patterns so you can find which thrills you most.
Who are they for?
They can be enjoyed by men or women but are great for women as they are primarily designed for insertion and offer a range of other sensations. Some are small enough to be incorporated into couples sex.
We recommend:
Lovehoney Jessica Rabbit 10 Function Rabbit Vibrator. Perfect first time vibrator because of its incredible ease of use, multispeed controls and waterproof cover. See more Vibrators.
---
Dildos
What are they?
Dildos are insertable sex toys which are perfect for those who like something a little more realistic during their play. They provide straightforward satisfaction and are ideal if you need some sort of internal stimulation to orgasm.
Why are they good?
Available in many different colours, shapes and sizes, they provide penetration pleasure unlike anything else. If it's length you're after, or a width to revere, you're bound to find it with a dildo.
Who are they for?
Everyone! The wide range of realistic and non-anatomical dildos means they're great for both solo female or male play, and thanks to the many harness options, they're also perfect for lesbian or hetero couples who want a penetrative addition. Read more on the different types of dildo here.
We recommend:
Lovehoney Lifelike Lover Silicone Realistic Dildo 5.5 Inch. A manageable 5.5 insertable inches with lovely lifelike detailing. See more Dildos.
---
Cock rings
What are they?
One of the simplest yet satisfaction-inducing sex aids around, cock rings are stretchy rings that sit at the base of the penis and prevent blood flow flowing back down the penis to keep erections feel harder and last longer.
Why are they good?
Well, who doesn't want harder, longer-lasting erections? Not only are they great for giving him a more satisfying orgasm, many of them have a vibrating bullet attached to give her intense clitoral stimulation during sex.
Who are they for?
For men looking for longer hard erections, and for couples looking for increased mutual pleasure during sex.
We recommend:
Lovehoney Bionic Bullet Vibrating Cock Ring was named best male sex toy by Men's Health magazine. See more Cock Rings.
---
Anal Sex Toys
What are they?
A veritable smorgasbord for your ass, anal sex toys come in all shapes and sizes. Anal beads are great for beginners because of their ease of use, graduated sizing and unintimidating appearance. Anal dildos provide greater sensations and are available in many different shapes and sizes, making them ideal for men, women and couples. Similarly, butt plugs give you that incredible feeling of fullness yet also give you the graduated shaping of anal beads. They will always have a flared based to prevent unwanted travel.
Why are they good?
Once you get over any initial apprehension of anal play and realise that the whole area is rich in nerve endings that just love to be teased and stimulated, you'll never look back. For men in particular, the prostate is located inside the anus and stimulating it can provide some seriously impressive, powerful orgasms. Find out more.
Who are they for?
All and sundry! Great for men and women's solo play and as an addition during sex to give you both explosive orgasms.
We recommend:
Lovehoney's Beginner Anal Beads and you can start with the smallest bead then work your way up to taking them all. See more Anal Toys.
---
Male Sex Toys
What are they?
There are entire ranges of sex toys available to men with such variety that you're bound to find something that tickles your fancy. There's everything from great value sleeves and strokers to realistic vaginas, and from sex dolls to prostate toys.
Why are they good?
Male masturbators can give authentic real-feel pleasure, or better-than-the-real-thing textures that stimulate the nerve endings in the penis. They're easy to use, some are visually stimulating and many can be used during foreplay too.
Who are they for?
Primarily for men, to give out-of-this-world stimulation during solo sessions. But they also make great couples toys when you want to add that extra sensation to your sex session.
We recommend:
Lovehoney Reversible Double Stroker. A long twin-texutred sleeve with supple fronds and ridges delivers intense sensations. See more Male Sex toys.
---
Love eggs & jiggle balls
What are they?
Discreet and sexy, jiggle balls are small, egg-shaped balls that sit inside your vagina to give your pelvic floor a workout. They can be used solo, during foreplay or out and about. Love eggs come in vibrating styles, often with a remote control so you can put the power in your lover's hands.
Why are they good?
Jiggle balls are the sexiest workout a girl can get. They strengthen your vaginal muscles to give you stronger orgasms during sex and help you feel tighter for him. Love eggs are little balls which vibrate to give you extra pleasure in and out of the bedroom. Find out more.
Who are they for?
They sit inside the vagina stimulating the woman, however many remote control eggs make for perfect couple's play so you can enjoy together.
We recommend:
Lovehoney Wickedly Powerful Love Egg Vibrator. Enjoy the thrills from the powerful multispeeds amd smooth, elongated shapes. See more Jiggle Balls and Love Eggs.
---
Bondage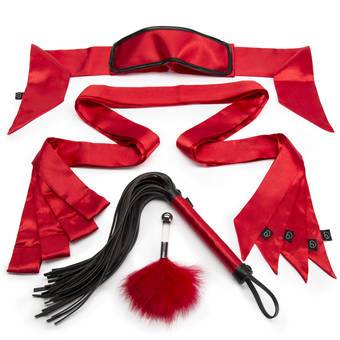 What is it?
When people think of bondage they often think of chains or furry handcuffs. There's a lot more to explore. We have blindfolds, handcuffs and feather ticklers for those just starting out with tie and tease play. We also have bondage gear like electro sex toys, bondage hoods and nipple clamps for more advanced practitioners.
Why is it good?
Bondage is an exciting way to broaden your sexual horizons, increase your sexual repertoire and invite an array of new play into the bedroom.
Who is it for?
Whether you're just starting out or have already discovered the joys of bondage with your partner, at Lovehoney we have something for everyone when it comes to tie and tease or BDSM.
We recommend:
Tease by Lovehoney Luxury Bondage Kit. Read more about bondage in our guides.
---
Need more help?
You can Contact Customer Care, who will be able to help you find the perfect toy. You can email, telephone or live chat to an experienced advisor 24 hours a day, 7 days a week.
The other great place to look for people's advice on sex toys is on the Lovehoney Forum, where our community is on hand to give their opinions and tips.
Contact Lovehoney Customer Care | Visit The Lovehoney Forum
---
You may also like