Alex Reviews: Lifelike Lover Classic Realistic Dildo Vibrator 8 Inch
---
Look and feel
I must admit I can be a bit of a joker at times and took advantage of the look of this to make my friend jump recently when I had it hanging out of the fly of my trousers. Her face was priceless, but it just goes to show how realistic the look of this product is.
It feels nice to hold, it doesn't feel like plastic or have much of a smell like some toys can and is firm while being flexible. The wire can get in the way occasionally but isn't really a major issue, and the shape of the controller makes it easy to use and to hold (even if you have arthritis in your hands).
The vibrations were varied and very powerful, especially when considering it is not an expensive product.
Accessibility
The base makes it easy to mount using the suction cup and is surprisingly strong - there isn't much chance it will become dislodged while in use. The dildo can be held by either the space under the balls or the suction cup itself when being used on a partner.
We haven't used this in conjunction with a harness but it is possible and looks like it would be very easy to mount. It isn't too heavy either which can definitely be a consideration if you have arthritis.
Duet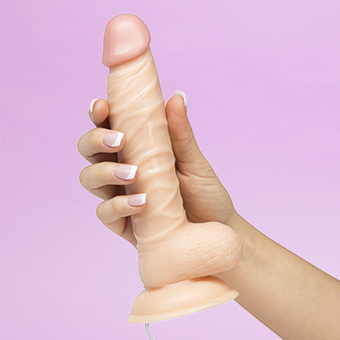 As someone with limited mobility I must admit I enjoyed using this on Louise and it meant that she could be penetrated while I focused on her breasts. Something I was more than happy to do and it had a lot less of an impact on me physically in relation to pain than having sex would have.
One of the issues I have with living with chronic pain is it can affect my ability to get and maintain an erection. I found using this on her was a great way to get us both turned on but without too much physicality.
The couple of times I did start to lose my erection, Louise took over and began to use it on herself, while I got to take over with the controller. It certainly wasn't long before I was back in the mood again.
Summary
We would definitely recommend this to other customers but if you have had children you may want to consider an extra girthy dildo as well. Overall we were very pleased with the look, feel and price of this product.
My wife found that using this dildo wasn't uncomfortable or difficult to use herself despite having arthritis in her wrist and hands.
Being able to mount it on a variety of surfaces allowed for a variety of positions and a practically hands free experience. Surprisingly it didn't actually take much strength to attach the suction cup, although it did take a bit to detach it again afterwards.
---
A married couple from Scotland, Alex and Louise met on a night out in Edinburgh 11 years ago. Although the relationship has changed a lot over the years, they are just as much in love today as they were back then. Unfortunately a car accident six years ago has left them both in chronic pain.
However, they live their lives determined not to let pain get in the way of love, passion and intimacy. They hope by talking about the issues they face and how they might overcome them, it might help others in a similar situation.
---
You may also like: