Sex Toys I Never Thought I'd Try: Lovehoney Supreme Sensation Pussy Pump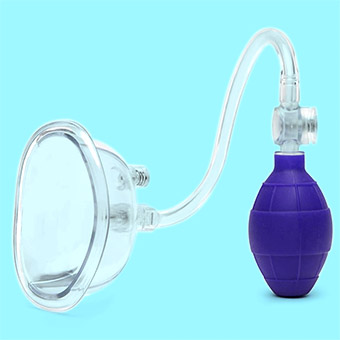 I can say with utter confidence that I never thought I'd try a pussy pump. For one thing, I've never spoken to anyone who has owned one. My friends and I have spoken about which vibrators are the quietest and which toys are best for starting to explore anal play, but no one in my social circle has ever brought up the topic of pussy pumps.
Because pussy pumps were completely foreign to me, I had always found the look of them kind of intimidating. I'd only ever seen them in sex shops, and they'd always been large and black in colour, with explicit imagery on the box.
Despite these trepidations, I decided to try out a pussy pump for Lovehoney's new 'Sex Toys I Never Thought I'd Try' series. It seemed unfair to keep knocking this kind of sex toy if I'd never actually tried it.
It wasn't long before the postman left a plain brown package on my doorstep. There wasn't a single clue on the parcel to suggest what was inside, but I knew my Lovehoney Supreme Sensation Pussy Pump had arrived!
---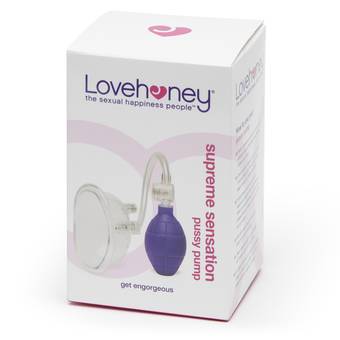 First impressions
Once I unwrapped the parcel, the first thing I noticed about the Supreme Sensation Pump was its packaging. A simple picture of the pump features on the front of the box – no late-90s hardcore porn in sight. So far, so good! On the sides, there's a summary of the toy's features and instructions for use.
I'm a visual learner so, in addition to the written instructions, I pulled up the Lovehoney website and made a beeline for the handy product videos. Once I'd taken those in, I headed straight over to Lovehoney's YouTube Channel and watched the video on How to Use A Pussy Pump.
---
What I learnt...
They say that knowledge is power, and after swatting up on all things pussy pump I was feeling powerful indeed! Here's what I learnt:
Although there are different designs, pussy pumps all feature a quick-release valve. It's important to know where this valve is located before you start so you are able to break the seal and remove the toy when you want to stop playing with it.
The Supreme Sensation Pussy Pump is great because it has two quick-release valves – one up by the hand pump and one on the ergonomic pump chamber itself. This means that calling time out has never been easier, whether it's you or your partner who's in control of the suction.
In the beginning, it's better to do several small pumps instead of a few great big pumps. This way, you can slowly increase the suction rather than ramping it up too quickly and causing yourself discomfort.
---
Getting to grips with it
Because it was so unlike any sex toy I have tried before, it took a bit of experimentation to get my pussy pump working. But that's what I love about trying new sex toys – they encourage you to become more familiar with your own body and with what turns you on.
First, I decided to try using the pussy pump in a seated position. Don't ask me why I did this, I was just feeling like a sexual scientist and I didn't want to leave a single position un-tested.
This didn't work for me, because from a seated position I couldn't get the pussy pump to make a seal, which is crucial to getting it to work. From there. I decided to get horizontal, and that's when I started making progress.
---
Practice makes perfect
Once I started experimenting with the pussy pump while lying down, that's when it started to do its thing. The pump chamber is ergonomic, but I think different users will position it differently. For example, I instinctively spread my legs wide apart to try and give the pump chamber as much surface area as possible to work with, but that turned out to be a no-go.
It turns out what I actually needed to do was position the pump chamber then, with bended legs, touch my knees together. That was the position I needed to be in to get the pussy pump to form a seal, but it may not be the same for everyone.
What I loved most about the Supreme Sensation Pussy Pump was the sensations it was able to deliver. The suction was unlike any feeling I'd ever experienced before. I used the pussy pump in conjunction with my favourite vibrator, the Lovehoney Deluxe Mini Massage Wand. The pussy pump had left my erogenous zones pleasantly sensitive, and this greatly enhanced the pleasure I got from my vibrator.
---
Final thoughts
Thanks to the Supreme Sensation Pussy Pump, I'm no longer intimidated by this genre of sex toy. Pussy pumps really are quite unique, because they deliver a degree of suction that only this type of toy can. In the future, I can see myself using a pussy pump to boost my solo sessions and to the increase the gratification I get from other sex toys in my collection. What are your thoughts? Have I left you feeling curious and ready to get pumping, or are you a seasoned pussy pump user who thinks I'm late to the party?
---
Audrey Andrews is a student blogger for Lovehoney. In her spare time she loves to do craft, but would not advise knitting your own condoms.

---
You may also like: