Create Your Own Sexy Costume For Halloween
As the nights draw in and the cold eerie mists linger for longer, it can mean only one thing… that Halloween is fast approaching. So, it's time to get to grips with your wicked side and maybe show off a little skin for this most fiendish of festivals.
Tap into your inner vamp, your wanton witch and get those pussy cat claws sharpened for action as we show you a little of what's on offer for you to create a killer costume; whether it's to stop people dead in their tracks at a costume party or to spice up the spooky season in your bedroom.
Take a look at these 5 hauntingly hot outfits!
---
Bad Kitty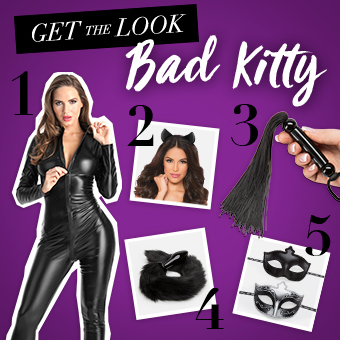 You'll be feline good in no time in this curve-embracing catsuit. Accessorise with a playful little flogger, some cute pussy cat ears, and perhaps a masquerade mask for coy kitty appeal. For the more adventurous a flirty furry tail butt plug could really get you purring.
1. .Lovehoney Fierce Wet Look Zip-Around Catsuit
2. Seven 'til Midnight Kitty Headband
3. Bondage Boutique Slap 'n' Tickle Rubber Flogger
4. Dominix Deluxe Glass Faux Fur Animal Tail Butt Plug
5. Fifty Shades of Grey Masks on Masquerade (Twin Pack)
---
La Diabla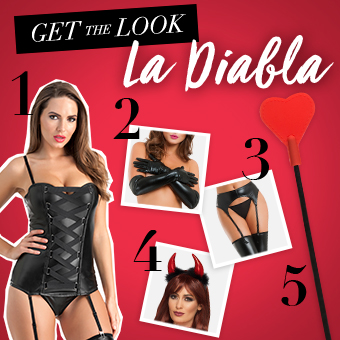 Look hotter than hell as a devilish dominatrix in a criss cross corset-style basque with suspender straps. As the devil is in the detail, heat things up even more with wet look stockings and a pair of wet look gloves. Finish off your fiendish attire with a whip or riding crop for dishing out some provocative punishment.
1. Lovehoney Fierce Leather-Look Basque Set
2. Lovehoney Black Wet Look Elbow-Length Gloves
3. Lovehoney Black Wet Look Thigh-High Stockings
4. Fever Furry Devil Horns Headband
5. Bondage Boutique Red Skip a Beat Heart Riding Crop
---
Bloodsucking Beauty
You'll be dripping with deadly allure when you vamp it up as a Halloween fangtastic favourite. Perhaps add a twist as your alter ego and slide into a wet look catsuit and attach some shimmering vampire bat wings. Grab yourself a tasty mortal, throw back your seductive long locks and take a bite of what you fancy.
1. Fever Red and Black Mini Vampire Cape
2. Fever Black Vampire Bat Wings
4. Fever Gothic Purple and Black Long Wig
5. Fantasy Play Ultimate Fangstasy Vampire Costume
---
Bad Cops & Deadly Docs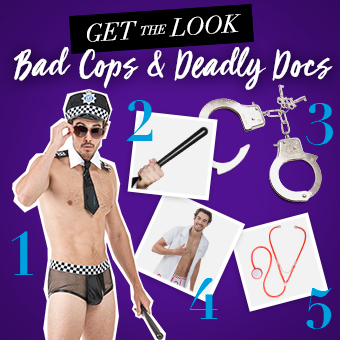 Play good cop, bad cop as you cause cardiac arrests in revealing tight shorts and a look that will have folk begging you to pin them down and read them their rights. Or add some blood splatters to the good doctor's coat to make the switch into a menacingly macho medic. Throw on a stethoscope and listen to those pulses racing.
1. Lovehoney Fantasy Officer Frisk-em Costume
2. Squeaking Policeman's Truncheon
3. Bondage Boutique Silver Handcuffs
4. Lovehoney Fantasy Doctor Costume
5. Fever Doctor/Nurse Stethoscope
---
Saucy Sorceress
Bewitch and beguile when you pair Wicked Witch of the West stripey stockings with a killer wet look bodycon dress, lusciously long ombre locks and an enchanting pointy black hat... and of course, no sultry sorceress would be caught dead without her magic spanking wand!
1. Fantasy Play Witch Please Wet Look Sorceress Costume
3. Lovehoney Fierce Leather-Look Bodycon Dress
4. Dominix Deluxe Advanced Leather Cane
5. Lovehoney Plus Size Black and Purple Stripe Stockings with Bows
---
You may also like: