Womanizer, woman-womanizer: Review of the Month September 2018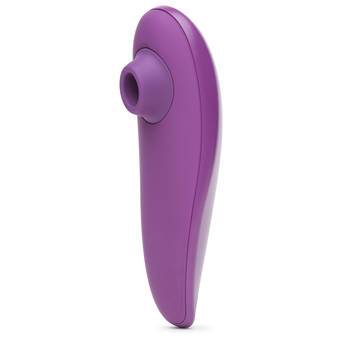 It's the post you've all been waiting for – time to announce the latest winners of Review of the Month!
What's the prize? Well, it's a £100 Lovehoney voucher. I know right?! Let's find out who won...
Impressed with the sensation that is the Womanizer Classic Rechargeable Clitoral Stimulator, is long-time forum member: NatandTom.
"It's perfect for lazy masturbators like myself or people who can't move their wrists and arms around much due to a condition or injury. I'd absolutely recommend it to anyone in the above circumstances who likes clitoral stimulation who needs or wants most of the work done for them."

Read the full review here.
Congratulations NatandTom, think of all those Halloween treats you can now get your hands on.
We have some more treats to give out. Read on to find out who has been awarded with 2,000 Lovehoney points...
---
Runners Up
In it together! 's review of Lovehoney Enjoy Water-Based Lubricant 250ml:
"When spread, the thick liquid does exactly what you want it to; make sex toys or sex more lubricated and pleasant without any inappropriate friction."
Lovinthetoys's review of Lovehoney Plus Size Rendezvous Black Studded Open-Cup Body:
"The quality of this piece shines through when you see all the lovely features, like the nice wide suspender straps, with gold metal clasps. And the little golden Lovehoney accent just finishes it off."
Gillybean 22's review of Lifelike Lover Classic Realistic Rotating Dildo Vibrator 8 Inch:
"If you like some good penetration you will love this new sensation. This is a great new toy for us to enjoy."
---
Video: Did you know that Lovehoney has the largest database of sex toy reviews anywhere in the world? In fact, we've received over 200,000 reviews telling us what you love (and what you don't) when it comes to sex toys.
In this week's vlog, Jess and Roy play 'Guess the Sex Toy' using your reviews!
---
Want to enter to win? Have a read of our handy review writing tips and submit your own review on something you own!
---
You may also like: