"Does it Work?" August's Review of the Month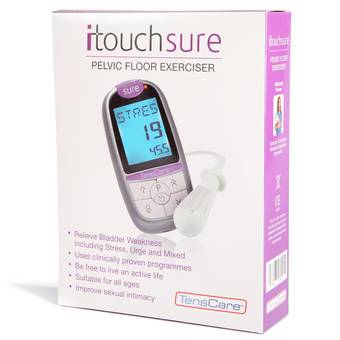 If you've shopped at Lovehoney, chances are you've read at least one of our 287,000 sex toy reviews. These reviews are written by our customers (some of whom are sex toy testers) and are a great way to get the lowdown on a product from someone who has actually tried it.
Each month we pick our favourite recent review to win £100 to spend at Lovehoney. This month's winner tries out the TensCare Itouch Sure Pelvic Floor Exerciser with Electrical Pulses with fantastic results:
"You can treat urge incontinence and stress incontinence with this, or a combination of the two. You get a little control module - about the size of an old flip mobile phone, and the probe which is small and very well shaped to slip in and remain in place with no pain or stretching. You could easily wear it all day and not feel discomfort."
"The big question is 'does it work'? And, yes, it most certainly does! I've found that I am much tighter, and I can run now without any leakage and even jump on a trampoline, something that was impossible before."
ReadAWilki's full review here.
AWilki wins our top prize this month, but we've also selected 3 runners up. Read on below to find out if you were lucky…
---
Our winner this month may take the big prize, but we've also selected three runners up, who get a whopping 2,000 Oh! Points each credited to their Lovehoney Community account - congratulations everyone!
Fancy trying your luck? We'd love to hear your opinions on any purchases you've made recently, whether you've loved it, hated it or were just mildly indifferent. Submit your review to be in with a chance to win the top prize, but remember to read our guide to Writing Winning Product Reviews first for tips on how to get started.
Runners Up:
---
Subdom27's review of Bondage Boutique Silky Rope Multi Position Restraint Set Red
"The ropes are extremely good quality. The material is silky smooth and the weave is of a medium density. This means that it's more forgiving than tightly weaved ropes, so there's a certain amount of elasticity from it, rather than it being too rigid. Another great thing about the ropes is that they aren't round like usual bondage rope - they're much wider and flatter. This adds to the comfort for your sub, as the extra surface area against their skin means it doesn't cut into their wrist/ankles too much."
truegrace's review of Lovehoney Plus Size Spoil Me Satin Babydoll Set Plum
"This feels so luxurious to wear with the soft satin against your skin. It's definitely more sexy and sultry than slutty, which for some might not be so great, but always good to have a mix in the drawers, right?"

"Once on, the satin hugs the body, and was a bit apprehensive at first, but this looks really good, even for us more curvy ladies, and feels so nice any self-conscious feelings soon disappear and are replaced with naughty thoughts!"
Thisismyscreenname!'s review of Rocks Off Ammunition RO-80mm Erotic Ink Bullet Vibrator
"The first setting of the bullet is a gentle rumble - though still powerful enough to produce results on its own! The second setting is more of a general, what-you'd-expect from such a small toy intensity - I find I sometimes don't even need to go past this speed to get satisfaction from this product! Finally, the third speed is much more powerful than I'd have ever expected! It's shocking how good that third setting is (in a good way!) and I've never failed to get off with this setting!"
---
You may also like: